In this post, we will share a step-by-step guide on how to request to join a live on TikTok with or without 1000 followers.
TikTok has a special place in people's hearts. It is one of the best video-creating platforms in the world. People are ambitious about the TikTok lives of their favorite celebrities.
The experience of getting live, spontaneous reactions to your talk is something else for a creator who has a large enough audience for interaction.
People do go live in TikTok with 1000 followers, but their condition to go live here is that you have access to that feature. If you already have, Just go live! And explore your audience and their feelings about you.
It builds up your confidence level in conversations. It can transform you into an entirely better version of yourself with a great confidence level, communication skills, and brand-making skills.
Because interacting with people live on social media is as same as interacting with a group of people who came just to see you and talk to you. So there could be some development of communication skills or handling the crowd.
Table of Contents
What does TikTok live mean?
So TikTok Live is a kind of broadcasting that is held live on TikTok by the creators. Usually, these videos are done by brands to show some tutorials of their products; otherwise, they are being used by the content creators to interact with their audience.
Some cooking creators also use this app for some tricks that they use while cooking. People enjoy their lives as they feel connected with their favorite creator every day whether it is a cooking-related creator or entertainment-related or fitness related. They consume their content and their teachings as daily motivation.
So if you have questions about your favorite celebrities or any other famous person whom you admire, you can join their TikTok live and interact with them.
It could be an easy way to join the conversation than to go for their live shows where the whole crowd is shouting and you don't even express yourself fully in that crowd.
How to join a live on TikTok as a guest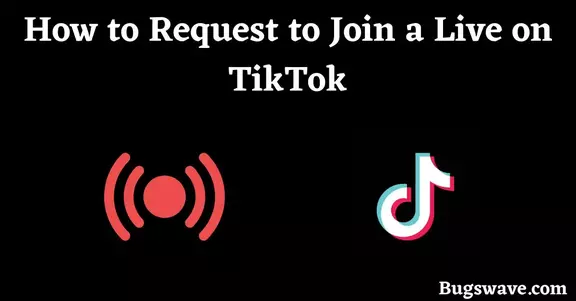 It is a simple process and there is no need to do some extraordinary to make this possible. Just follow the steps that we are going to mention and you'll able to join someone's life as a guest
● Open your Instagram account and find the life that you want to join as a guest.
● After tapping on that life, you entered the live interaction of that person.
● Now go to the comment section and tap on the button with two smiles or smiling faces to send a request to join you as a guest in their life.
● After the person approves your request, your screen will split in two and you will be live with that person.
So that was in this, one thing that you have to know is that if your request will not be approved by the other person then you cannot join his life.
Step by step Guide to going live on TikTok 
We will guide you in simple words to do this whole process of going live on TikTok. But as we said earlier that you should have access to the live-streaming capabilities of TikTok. If you have that access then it'll be a cakewalk for you. Just follow these steps with us.
● By opening your TikTok app, just click on the create button (usually displayed as a "+" icon) at the bottom of the screen.
● Now swipe left to the 'live' option to start your live stream.
● Select an image and title for your live stream. Just remember that your title and image should be attractive enough so that people come and see what is happening in this live stream.
● Once you are ready for the live stream, then it'll count down for 3 and will go live immediately after that.
● You can use features of TikTok during the live stream like effects, filter comments, and many more.
Can you go live on TikTok without 1,000 fans?
Usually, all social media apps support live streaming under some conditions. Here is the same case also, where you should have a minimum of 1000 followers to access the live streaming capabilities.
Some websites claim that they have secret tricks to access all the live streaming features under 1000 followers. But we gonna warn you about these silly tricks because if one of them misses, it could be dangerous for your account.
It can lead to your account to being permanently banned from TikTok. Because for a social media company like TikTok, their policies are everything if they want to survive in this huge market of social media giants. So they never compromise on their policies at any cost. 
You can make these efforts in making more followers which will also help you to access those features.
Verdict
Thanks for reading this to the end, we hope you liked this guide on "How to Request to Join a Live on TikTok" and learned something new from it.
Viewers can also send you some virtual gifts if you are 18 years of age or older. Then the gifts can be transformed into money but at very low exchange rates. because it is not a currency, but the main thing is, the feature exists. After that, creators know very well how to raise more money from this feature.
In the end, we just wanna say that do go with tricks blindly and do a little research on them before applying those tricks.
If you have some questions about this article then you can comment in the comment section to let us know about your problems with this article.
Other Posts- How to Fix Android File System limit error
FAQs
Can TikTok Live make money?
Yes, TikTok creators can make a lot of money from their TikTok live. They usually earn through donations from viewers. That donation can be as big as $100 and as low as $1 it totally depends upon the viewers. But the main thing is people are earning a lot from this earning method.
Can tiktok live be recorded?
Unfortunately, there is no way to save or record your TikTok live. And there is no way that people can replay your TikTok live. If you want to save it or replay it later then you should take help from third-party screen recorders.
What is not allowed on TikTok live?
TikTok does not allow you to share nudity or sexual content on the platform. Because these are against its policies.

Hello, Myself Rana, the founder of Bugswave.com, where I assist others with their technological problems and guide them through the process of resolving them.
Share with others