Are you also experiencing the Android file system limit issue on your phone? Read our blog to solve this error.
Sometimes your phone's storage is full, and you may not be able to download a single image. In this case, your phone notifies you via a message that your phone's storage limit has been reached and that it will no longer accept large files.
But we frequently ignore this message because we don't usually care about those messages.
But after some days of ignoring it, your phone starts denying the downloads because of not having enough space in the phone. And at that moment people realized that they should have paid attention to that message so that they would not have to take this decision in a hurry today.
People often delete their important work-related stuff in hurry at this moment. But we are here to guide you so that you can first delete unnecessary stuff from your mobile phone and after that, shift to cleaning it deeply with not much stress on them.
So let's straight jump into those steps.
Table of Contents
5 Ways to fix Android file system limit error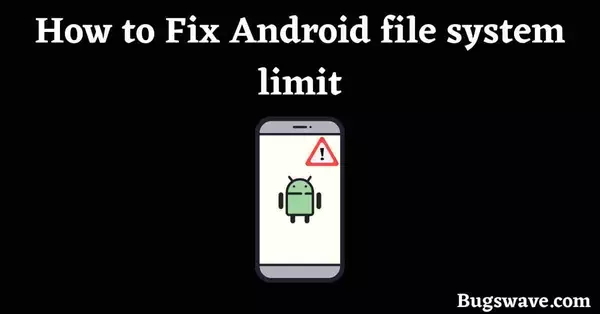 There are mainly five steps for the best and most efficient deep storage cleaning. We'll cover all those steps here and highlight some of the key points so that you would not get misguided unintentionally.
1. Clear cache
After receiving the message of reaching the storage limit, most people might get confused. Because they haven't installed any such big files on their smartphone and they know that their mobile cannot reach its limit this fast. So where is the damn problem?
The problem is cache files, that are being stored in your mobile storage and you haven't noticed it yet. But what is this cache memory? So the cache memory is made when you open any app on your smartphone. So it stored the data that you see last time while closing that app.
And on opening it next time, it'll pre-load the home page for you so that you don't see the blank screen or loading icon on the home page. From this, it is clear that this does for a better user experience.
Just clean that cache files/memory from your device and it will free up a nice amount of space for you and will resume the normal working of your smartphone.
Follow these steps to clean up the cache:
● Navigate to your mobile's settings.
● Now Search for storage in the search bar.
● After going into the storage section, go to the "apps and data" option.
● Now select the individual app icon and tap on the "clear cache" option to clear all the cache of that app.
● After clearing the cache from all the devices, your storage will be available to you.
2. Delete unused and unnecessary apps
After clearing the cache, you should consider deleting any unnecessary apps. because you may have discovered some unused or unnecessary apps while cleaning the cache. It's now time to delete them from your device because apps take up a lot of space.
Especially video editing or photo editing apps or apps that have lots of features in them. So while they have lots of features, it is a must that they have a large size.
3. Use files from google
Google always helps us keep our mobile phones easy to use with its amazing features. Using these apps will keep your data safe and easy to access. Similarly, Google has an app to clean up your phone's storage better than anyone.
What's unique in this app? This app will arrange all your similar files together and make an easy process for you to delete them from that list. For example One of the main features of this app is it automatically identifies the best wishes photographs and memes photographs in your phone and keeps them separate from other photographs.
It will be easy for you to delete them at once with one tap.
4. Delete unnecessary recorded videos
Seriously this would give big relief to your smartphone. Because the videos that we record on our smartphones are always large. So deleting them or moving them to another device like a laptop could be a better option for you.
Delete all your recorded videos asap and this will surely free up a massive amount of storage for you. Also not deleting these large files may make your phone a bit laggy. This could be more irritating than a storage issue so removing these files from your smartphone would be a smart step.
If you are using google photos then make sure that you delete those files from the Bin as well. The reason is that large files will remain in your smartphone's storage even after deleting them until you clean up the Bin as well.
5. Factory Reset Your Phone
The most time-saving but the most less used step is resetting your whole smartphone. It is less commonly used because no one wants to lose their data until it has been successfully transferred to another device. So it may be noted that it will delete all of your data from your smartphones and make it a new-like phone with all empty storage.
As a result, before factory resetting your smartphone, make sure your data has been successfully transferred to the hard drive.
It will resolve all RAM-related issues and make your phone appear (from the inside) to be a brand-new unit fresh from the factory.
Conclusion
You can try uninstalling unused apps, deleting unnecessary files and media, clearing the cache for apps, enabling storage optimization, factory resetting the device, etc. to resolve this issue.
We hope you are now able to fix Android file system limit on your Samsung or another Android phone. Just make sure that no data is lost in the process. and make sure your important data is safe. Otherwise, there is no such danger.
If you enjoyed reading this article, don't forget to leave a comment in the comment section.
Also, check out How to Turn Off Autoplay on Peacock
Frequently Asked Questions
How to free up space in android to Fix file system limit errors
?
There are a few different ways you can free up space on your Android device:
Clear the cache for apps
delete unnecessary files and media
Uninstall apps that you no longer us
What is Factory reset on an android phone?
You can factory reset your device to clear all data and start over. This will delete all of your apps, files, and settings, so make a backup of any important data before proceeding.

Hello, Myself Rana, the founder of Bugswave.com, where I assist others with their technological problems and guide them through the process of resolving them.
Share with others