We will show you How to Delete a POF Account on Android and iPhone devices in this article.
So POF, or "Plenty of Fish," is basically a dating app that can be easily found on the Play Store or App Store.
This platform popular is in so many countries but there are some countries too that do not know about this app because they only know about tinder, bumble, and all that apps that have created their hype with marketing.
We just wanna tell you that this is no less than a dating giant. Because this has almost 50 million downloads on Playstore and a similar number available on AppStore. According to the reports, this app has almost 5 million active users in the world.
So if you are a daily user of this app and now you want to delete this app for some personal reasons.
It can be so many things like you are no longer single right now, or you just want to delete this app because you don't like their service, and many more. And you are having difficulty deleting your account from this app.
Don't worry, we will help you in this situation, We'll tell you how you can delete your POF account from this app, whether you are an Android or iPhone user. We'll cover everything related to this.
So without wasting any more time let's straight jump into the article.
Table of Contents
Can you Delete POF Account?
Fortunately, it is possible to delete your account from POF. So there is no need to worry about the deletion of the account. You can hide your account from the POF app so that no one can find your profile again on the app after you delete it.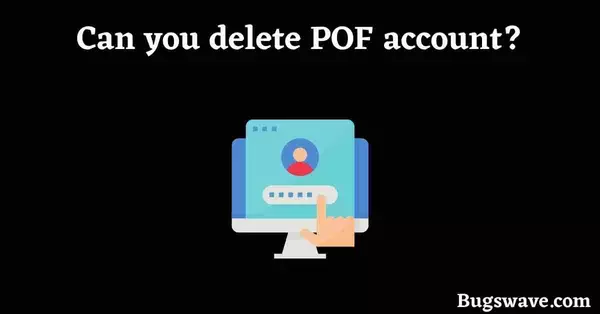 But in some cases, your data will remain on the database of POF, which is not a big problem if you agree with us.
The main purpose of anyone is not showing your profile again on the app or not getting connections from the app again after the deletion because you can be in a healthy relationship and it can disturb your relationship if it still remains there.
How to delete POF Account on an Android phone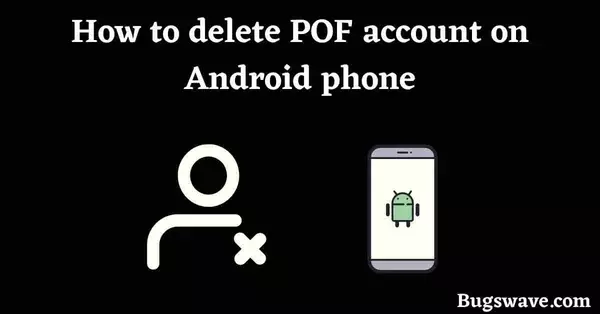 There is nothing too much difficulty in this step, it is an easy step and everyone can easily understand all the steps and delete their account.
The deletion of the account from dating apps is an important part of the journey because you reach a point in your life where you don't feel anything special about the apps or there may be no need for this app any longer.
So let's get into the full procedure of deletion of the account from this app. The steps should be followed wisely and one at a time so that you will not get confused between the procedure.
Follow the below steps to delete your POF Account on an Android phone:
● Open your browser, now search for pof.com and tap on the search.
● Now login to your account by typing your email id and password in the given spaces.
● Now tap on send code and proceed to the next step.
● After this, it will send a verification code to your mobile number.
● After getting the code, just fill this code in the given bar and tap on the finish.
● Then, you will successfully log in to your account.
● Just simply go to the "Help Center" given at the bottom of the screen (among other options like community guidelines and many more).
● Now tap on "View Topic" in the "profile and account" section.
● After going into the View topic, scroll down a bit and you'll find an option named "Removing your plenty of fish account" under the "Accounts" section. Just tap on that.
● To permanently delete your account from POF, just click on the "Click here" highlighted in blue color.
● Here you'll have to answer some of the questions Then tap Delete account and for confirmation, tap delete account again.
● Here this whole procedure ends, Now you have permanently deleted your POF account. And no one can see your profile on the app after this.
After this, there is no need to worry about your POF profile. After doing this, your account will be permanently deleted from the app. If you ever try again to log in to your account, then it will not show anything to you.
How to delete POF Account on iPhone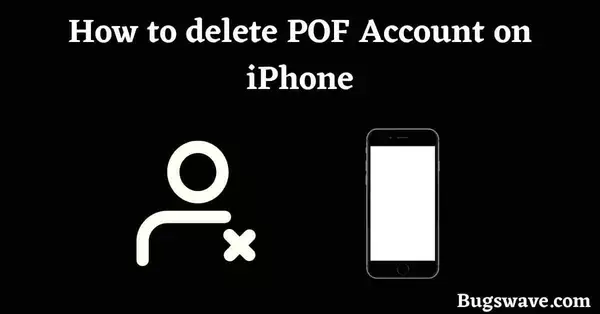 So there is nothing different in the iOS, there could be some options where words are other but the meaning of that words will remain the same.
Because the app is the same for every operating system, their optimization can be different according to the operating system. But the main motive of the app will remain the same at every point.
Now let's straight get into the wrap-up section of this article, because everything is clear now, and has nothing left to cover about this topic.
Video Guide:
Wrapping up
We hope you found our article about how to delete POF accounts on Android and iPhone helpful.
In wrapping this article, we just wanna say that delete your account on your own and by your own decision.
Because these apps or websites don't provide the facility of backing up your data or getting back all your data after deletion. Once it is deleted, nothing can be done to get back your data.
So we hope you liked our effort for this article and have learned something new from this. If you do, it is our pleasure to serve you quality content.
If there is any question about this article in your mind, then comment down in the comment section. We will do our best to reply to you and give you a proper answer.
Also, Check out – How to change Instagram Location Settings
Frequently Asked Questions
How can I delete the POF account on my iPhone?
To Delete the POF account on your iPhone, Open any browser and then navigate to the POF account deletion page and log in.
After responding to the questions that are displayed, click Delete to delete your POF Account.
Can you delete the POF before 24 hours?
Yes, You can remove POF prior to 24 hours. Go to the Settings page and scroll to the bottom to delete your account Then Select "Delete Account" from the menu.

Hello, Myself Rana, the founder of Bugswave.com, where I assist others with their technological problems and guide them through the process of resolving them.
Share with others