In this article, we have shared how you can change Instagram location settings on your Android or iPhone device in simple steps.
Instagram helped a lot of content creators in making their carrier and fame. Which is a great thing as a social media platform.
This could be anyone if he/she approaches the right technique on Instagram, of course, "content is the king" but there are so many talented artists on Instagram with very few followers so the main thing is the approach.
So with the right approach, you can be successful on any social media platform. In this approach section, there is a big role in location.
Now how is location helps you to grow? Simply because of the location-based strategy of Instagram. Instagram serves content on the basis of locations and your interest which they get from your activities on Instagram.
However, making this type of change to your post is difficult; for example, if you want to mention a location in your country, it will be simple; however, if the location is in another country, it may be difficult for you.
However, we are here to assist you in this situation.
Table of Contents
How to set location on Instagram on Android and iPhone?
Setting the location on Instagram is not a big thing but in the case of location of the same country. Mentioning the location of other countries could be a lengthy process.
We will guide you in changing locations on your posts to grow them in right place with proper efficiency so that they can help you in growing your business and reach.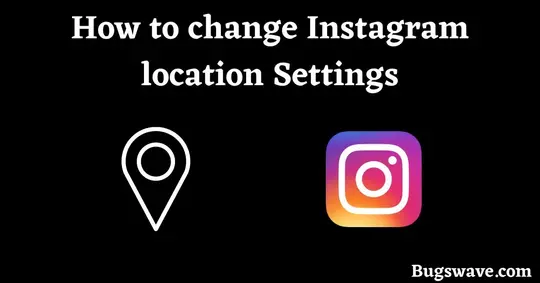 In order to do this, stay with us and you'll be able to solve your problem.
If you want to grow your profile in your country then follow our steps one by one and it will help you solve your problem.
● Open your Instagram mobile app.
● Then tap on the "+" sign on top of the screen, just before the 3 horizontal lines.
● Now select the Post option.
● After this select any image that you want to post on your account with a different location.
● After selecting the image, just click on the arrow sign twice (in order to skip the filters section) in the top right corner of the screen.
● Now tap on the "add location" option to add your favorable location.
● Now search for your favorite location that you want to add to your post and continue the process of posting the image.
This whole process will help you to change your Instagram location settings, If somehow this process fails in adding areas of different countries then we will recommend you use a VPN in this situation.
You just have to install a reputed or well-known VPN and then set up your location as the location of that country. After that, you can repeat the process, which will help you in posting your image. 
Conclusion
So, in the end, we just wanna say thank you to stay with us till now. And we hope this article helped in solving your issue and guided you in the right direction.
If you are a business owner or a content creator, you should be aware of the exact location or location where your content can be popular or where there is a greater demand for this product.
So by simply including that location in your post, you can attract a large number of customers or the general public to your product.
If you have any questions related to Instagram location settings then comment down in the comment section and let us know about your views.
Related Post- How to Request to Join a Live on TikTok
Frequently Asked Questions
How do I turn off the location on Instagram?
If you have an Android, you can access your settings and disable the precise location option under "Personal" in your "Location" settings.
What are some best Instagram location ideas?
Here are some Instagram locations ideas that you can use-
I'm SHY.
Home Sweet Home
Planet Earth

Hello, Myself Rana, the founder of Bugswave.com, where I assist others with their technological problems and guide them through the process of resolving them.
Share with others