Today we will solve your query about "Why can't I skip Youtube ads anymore?" or why is YouTube not showing skippable ads?
So YouTube, as we know, is the biggest platform for independent creators in the whole world. But some people are unhappy with YouTube ads.
But YouTube ads are important for YouTube to earn revenue because ads generate over 45 percent of total revenue on YouTube.
Table of Contents
Here are 5 Reasons why can't I skip ads on youtube–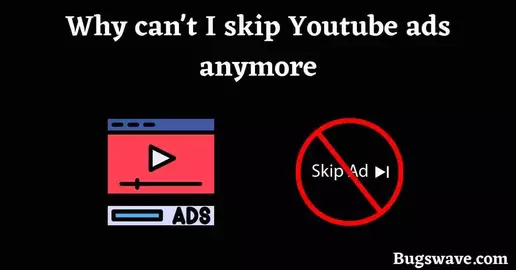 There can be many reasons for unskippable ads on youtube when we open it from another browser not directly through the app.
We will discuss the reasons below, but before this, we should be aware of why youtube shows ads.
If you think YouTube creators create their respective content for YouTube and YouTube pays for it, then this is an utterly wrong perception because that's not the case.
This is a different concept, let's discuss it, in brief, to save your time and for a better understanding of the whole concept.
YouTube run ads on the videos of creators on YouTube and pays them according to their views.
These are not the total number of views, but the number of times ads are seen by people. Because if you are getting 1000 views every day and you think that all thousands of views are going to count in earnings, that's not the case here.
The reason behind this is that when we consume some content on YouTube, Sometimes ads do not show throughout the whole video.
But sometimes this number could get worse and you'll see more than one or two ads in just one video.
So this frequency is all upon google or YouTube, we cannot do anything about this. so according to this frequency, YouTube pays the creator.
Now without any delay let's jump into 5 reasons for unskippable ads on YouTube.
1. Due to the Browser Problem
This issue could be caused by a problem with your browser to watch YouTube videos. Because we have seen many browsers that show so many ads on them and there is nothing harmful about that browsers but it may affect user experience somewhere.
It may also be due to the extensions you use in your browser. Many popular extensions like Readability, Awesome screenshot, stay focused, Buffer, and many more.
We know that these are important and enhance user experience but if you are searching for a solution for so many ads on youtube then, you have to turn off all of them.
2. Ads To The Target Audience
The primary reason YouTube implemented these unskippable ads was that most people skip ads without seeing anything.
As the company's primary source of income is advertising and if that is not working well then the company will have to take the decision to prevent it from losing.
Youtube ads are only shown to the target audience selected by the advertiser.
This has been done by analyzing the interest of the user like which topic he/she searched the most and many more aspects if their target audience is not going to see their ads then, Why should they spend money on YouTube ads?
That was the pressing issue for YouTube, which is why they implemented unskippable ads. So that at least the target audience will see their ads completely.
3. To help YouTube creators
Now let's learn how YouTube creators earn money from the ads. Youtube creators paid for the views on the ads or how many times the viewer viewed the ad.
This also includes, what time the viewer viewed the ad.
If the viewer watches the entire ad until the end, the creator will receive a specific amount of money from Google Adsense, but if the viewer skips the ad in between, the amount of money that the creator will receive will be negligible, or sometimes none at all.
YouTube doing this so that, YouTube channels can continue to make revenue and sustain their channels for a very long time.
Now if you think Youtube has done this only to help the creator then again you are wrong here. The advertiser pays a set free to YouTube for every 1,000 ad views.
YouTube then takes 45 percent, with the rest going to the creator. Some topics, such as personal finance or cryptocurrency, can increase a creator's ad rate by engaging a large audience.
4. Browser Plug-ins or Extensions
Browser Extensions can be the reason for more unskippable ads on YouTube.
So disabling them is the one and only step we can follow to stop or decrease the unskippable ads on YouTube. Let's find out the steps you have to follow to disable your browser extensions.
Here are the steps to disable browsers extensions –
1. First fire up the Chrome browser or any other web browser(because the steps are almost similar).
2. Click the three-dot menu button in the upper-right corner.
3. Then tap on "more tools."
4. Remove the extensions by clicking the 'Remove' button next to them.
5. Click Remove next to the extension you want to remove
5. Greater Advertising Revenue
YouTube does not allow you to skip ads because they want their advertiser to gain profit. Because people are more likely to make purchases after watching these videos.
Advertisers embed their product purchasing link on the video that they used to advertise and when someone purchases their product from that link then, automatically they will earn revenue.
And if people are not watching their ads till the end then the ratio of purchasing from that link will be reduced.
That is why YouTube uses unskippable ads to ensure that visitors are viewing the full ad whether the visitor purchase from that link or not but google has ensured from their side that people are not skipping ads.
Now YouTube has its reach worldwide and that is the reason marketers and advertisers choose YouTube ads because they increase brand awareness and revenue.
3 Ways to Fix Why can't I Skip Ads Anymore in 2022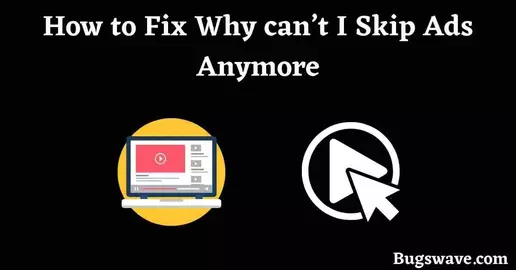 Now we are going to tell you the Best three ways to fix unskippable ads on YouTube. Now as we know YouTube is the biggest search engine in the world after Google.
And if users have faced an issue with it then they will surely search for its solution as soon as possible because
YouTube has become a need for the common man whether it is for entertainment purposes or for knowledge purposes.
Nowadays people lack patience and they are in rush for no reason in this situation of no patience there are unskippable ads on YouTube, Which people are finding intolerable.
Now let's straight talk about the 3 ways to fix unskippable Ads on YouTube.
1. Use YouTube Premium instead
Use of YouTube premium membership will stop showing any ads on youtube whether it is skippable or unskippable. Now let's know about how Youtube premium works.
YouTube Premium is a feature in YouTube in which you pay a fee to YouTube for a premium membership in exchange for an ad-free experience on YouTube.
It is the same as you getting paid subscriptions for Netflix or Amazon prime but the difference between Amazon or Netflix and YouTube is YouTube provides also provides you free access to it but these two platforms do not.
Now let's talk about the 5 Benefits you get when you buy a premium subscription on youtube.
● The first and main feature you get is an ad-free experience on YouTube. A very useful feature of YouTube is the ability to play any video without being interrupted by advertisements.
Without getting interrupted by any kind of ad, you can play unlimited videos for one month or depending on which plan you choose.
● The second and the best feature after the ad-free feature is you will get the 'Background Play' feature.
As we already know if I play a video on YouTube and then turn off my screen or on shifting to another app will turn off the YouTube video or you will not run the YouTube video in the background.
But if you have a YouTube premium subscription then Youcan do this thing. You can play videos in the background, you can enjoy your stuff by the audio playing in the background.
● The third feature you get when you buy youtube premium is that you can access YouTube Music for free and play millions of high-quality music for free. There is no need to use other music streaming apps that are demanding high prices for their app.
● The fourth benefit you get is, You can download the videos that you like in Full HD quality. YouTube also provides you the option to download videos even if don't have a premium subscription but you get options up to standard quality.
● The fifth and last benefit of buying a YouTube premium subscription is that you can access the premium content on YouTube.
Some creators on YouTube made content that can only be viewed by the premium subscriber. This includes so many web shows and so much content from other genres.
2. Using Brave Browser
Using of brave browser also helps you to block those ads even using this will provide you almost adless experience. So if you have any doubt about this browser then we ensure you that it is a safe browser and it ensures your privacy.
So how brave browser able to block all the ads?
So to know this first you should know, how the browsers are able to show you ads. Usually, browsers use your IP address and from this, they are able to know your location.
From this information, they show you ads according to your location. But this brave browser remains your IP address anonymous and does not show your location that is the reason YouTube or any other streaming platform is not able to show you the ads on this browser.
Also, this browser pays you for viewing ads on it. There is an option in the browser that you can use to turn on ads on your videos and from that, you will be paid for viewing those ads.
So many YouTubers have used this browser and got the same result every time they enjoyed an ad-free experience and recommended it to all their subscribers. here we are not promoting this Browser but informing you about this browser.
3. Using ad block Chrome Extension
Use of the ad block extension in the Chrome browser will help you to block ads on youtube. We earlier suggest you to turning off all your extension but you can turn on the ad blocker extension.
Follow these steps to install the ad block extension in your chrome browser
● First, open up the Chrome browser or any other browser on your computer
● Google 'AdBlock Extension' on your browser.
● Select the top result.

● Now click on "add to chrome" to add the extension to your browser
You can't use this method in the chrome mobile application but you can do it on a PC. Also, we do not recommend this to you. Because ads help content creators in maintaining their channels.
Types of YouTube ads
There are three kinds of youtube ads here are the types.
1. Skippable YouTube ads:
As we understand from the name, these ads can be skipped. Obviously not immediately but after 5 secs from the start.
2. Non-Skippable Youtube ads:
Non-skippable ads also have three types. These are differentiated according to their placements in the videos. Here are these three types.
These are the first type of YouTube ads that cannot be skipped. These advertisements begin playing before the desired video. They are brief videos that attempt to pique viewers' interest with a short message and tagline.
Advertisers rarely use this type of advertisement. They appear toward the conclusion of a brief video. Longer advertisements are recycled in this way and reduced to 6-second promotions.
The purpose of these ads, which play at the conclusion of the video, is to catch the viewer's mobile attention. Longer advertisements are reused in this way and reduced to 6-second promotions.
Last Words
We hope you like our article on why I can't skip YouTube ads anymore.
We arrived at a conclusion after talking so much about non-skippable YouTube ads in the browser. So as we already discussed above that watching ads is not a waste of time, even youtube shows ads according to your search activity, and your interest.
This indicates that it is possible that the advertisement you are viewing is something you are interested in or have been looking for for a while. It could be any platform or product.
However, despite all of these benefits, you still want to turn off adverts. Then, you can choose from any of the earlier ideas that we covered.
Frequently Asked Questions
Can you auto-skip YouTube ads?
There is an extension called YouTube Ad skipper which automatically skips Ads after YouTube provides the 'skip ad' button. This is not any kind of ad blocker but it automates the process of skipping ads on YouTube.
Do YouTubers get paid if they skip Ads?
They only get paid if a viewer clicks on an ad that appears on the screen while watching a video.
If the visitor or viewer watches the entire advertisement without skipping a beat, the advertiser will compensate them; if the viewer skips the ad, they will receive a small amount of money, which is clearly insufficient compensation for their efforts.

Hello, Myself Rana, the founder of Bugswave.com, where I assist others with their technological problems and guide them through the process of resolving them.
Share with others