This post will show you how to fix Snapchat's Can't find matching credentials issue. Some users also get an "Oops, we couldn't find matching credentials" error.
Snapchat is a photo and video messaging application. It is available on both mobile devices and desktops. It can be used by anyone, anywhere, to express themselves.
The contents will be erased in a few seconds after viewing. Therefore, it is usually used by young people.
Finding matching credentials in Snapchat is a common issue faced by app users. Many users have reported that they have got issues logging into Snapchat. This can be frustrating as it is one of the most popular social media platforms.
Table of Contents
4 Ways to fix "oops we couldn't find matching credentials"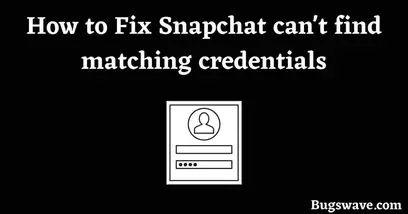 So first of all this is not an error. This is a message indicating that there is something wrong with the details that we have filled in.
Whenever we log in to our Snapchat id, if our details like our email id or password are incorrect, then this message will be shown in red words just below the password section.
But sometimes this message appears even if our details are correct. There is no need to worry about this situation.
You just have to follow our guided steps one at a time. It'll definitely help you out. And you'll be able to access your Snapchat account anytime soon.
1. Clear Snapchat's Cache data
A lot of cache data could be a reason to restrict you from your Snapchat account.
What exactly is cache data? Every app has its own cache data. In fact, it helps for a better and smoother experience in the app.
It stores some data about your recent activity in the app and helps you to load the app easily when you open it again.
If you have too much data stored on your phone, it will degrade your app experience. and sometimes restricts you from entering your own account.
To clear the cache data follow our steps and you'll be able to access your account-
First, open the Snapchat mobile application on your phone.
Now tap on the profile icon at the top left corner of the screen.
You can see your profile here now, Tap on the settings icon displayed at the top right corner of the screen.
Now on scrolling down click on the "Clear cache" option in the 'Account Actions' section.
On tapping, a message will be popped up. Saying "All your caches will be cleared, Your memories backup won't be deleted" just tap on the 'Continue' option.
After clicking on the continue option all of your cache data will be cleared.
Now this will not affect your Snapchat. Cache memory will be created again when you reopen the app and begin using it. However, for a smoother experience, you should clean your cache memory every 6 months.
2. Reset Your Snapchat Password
If you are among those users who have forgotten their password and trying to log in on Snapchat then this guide will help you out. This guide will only help you if you already know your username or id and want to log in without a password.
Follow our steps one by one and you'll be able to log in to your Snapchat.
Open your Snapchat mobile application.
Then it'll ask you for your username and password. Just fill in your username in the given section for username.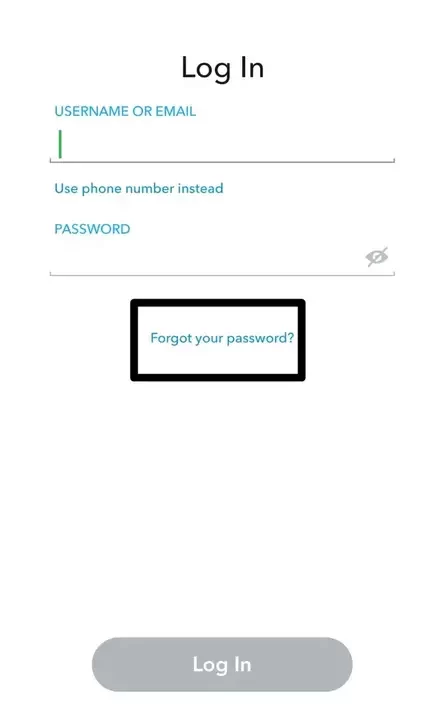 Now you don't have your password, just tap on the 'forgot password' option displayed just below the password section.
After clicking on the forgot password option, a pop-up is displayed on the screen asking you "How you want to reset your password". just click on any of the two options.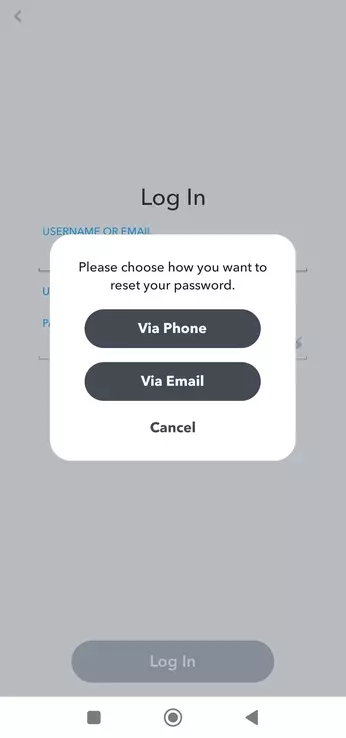 Two options are named 'Via Phone' and 'Via Email'.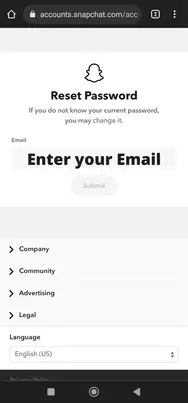 Now if you click on the 'Via Phone' option, then you'll get an option to check the phone number that is attached to your Snapchat (you can also change it).
After taping on the continue, You'll receive an OTP (One time password) on your Mobile number which you choose whether you want to obtain through a phone call or through a text message.
After you receive your OTP, just enter it and you'll land on the section where you can reset your password. after resetting your password go back and log in again.
Now, if you select the "Via Phone" option, the entire process will remain the same with the exception of receiving the OTP via phone call.
3. Check for Snapchat updates
If the problem is still there even after following the above steps then you should try this step. The reason because sometimes not updating your app can cause bugs in the experience of the app.
So to overcome this problem you have to update your Snapchat mobile application.
Updating the application gives you access to the most recent features of the application that they created for a better experience, but if you stick with the old version of it, you will miss out on those new features.
Not updating for a long time also leads to serious privacy issues, because the application provides time-to-time security updates, and not downloading those security updates risks your data in Snapchat.
For this go to your mobile's app store, if it's android then go to the play store. Search for the Snapchat app in the search bar and you'll see the update option right after the application icon.
4. Contact Snapchat support
If you want to contact Snapchat support, you'll want to know the best way to get a response from the company. The main way is to use Snapchat's support page, at support.snapchat.com.
The page includes a search bar that you can use to find answers to common questions. For example, you could Google, "how to add friends on Snapchat" and use the search results to find the answer on the support page.
Conclusion
We hope this post helped you fix the "Snapchat can't find matching credentials" problem.
Snapchat is one of the more popular social media platforms. But like any other social media platform, it has its own set of problems. One of them is Snapchat can't find matching credentials.
We hope this blog post has helped you fix the issue, but if not, feel free to reach out anytime.
And don't forget to comment below with your thoughts about this article.
Related FAQs
How to fix oops we could not find a matching credentials error on Snapchat.
If you are also getting errors like "oops we could not find matching credentials", follow the given steps to solve this error-
– Clear Snapchat Data
– Reset Your Snapchat password
What does could not find matching credentials mean?
There are a few different things that could be causing this error. Maybe you entered your credentials incorrectly, or maybe the website or service you're trying to access is having problems.
Either way, there are a few things like resetting passwords that you can try to fix the issue.

Hello, Myself Rana, the founder of Bugswave.com, where I assist others with their technological problems and guide them through the process of resolving them.
Share with others