Are you searching for how to view someone's Instagram story without them knowing? This article will help you solve your problem. So stay tuned with us.
Instagram is a popular social media platform for sharing photos, videos, status updates, and following people you know, celebrities, and other influential people.
Instagram Stories are a feature that allows you to share videos, photos, drawings, and many more things with your followers.
A story is a short post that lasts up to 24 hours. Unlike a post, stories are viewable by others and disappear after a day.
If you are wondering how to view another person's Instagram story so that he or she will not know about it, this article is for you.
Also, Check out How to find Instagram story Drafts
Table of Contents
5 ways to view someone's Instagram story without them knowing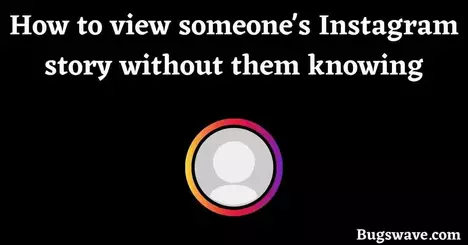 There are two ways to look at this entire concept. The first is that you are a follower of that person, and the second is that you are an outsider or stranger to that person and want to see their stories without revealing your true identity.
The first perspective is the safe one, but the second perspective is not user-friendly at all.
Although there is nothing illegal in these techniques, they are just simple and smart techniques that we can use without violating any laws.
So, let's jump into those methods.
1. Make another anonymous Instagram account
If you want to view someone's story on Instagram but don't want them to know about it, there are a few ways to do that. The most effective way is to create an account on Instagram on your phone that is not connected to your main account.
From the first perspective, this is just a smart trick to view your friend's Instagram story without knowing them.
In this case, you have to make an account with an anonymous identity, and from that account, you'll be able to see someone's Instagram story without knowing them. You'll be on their account to see their posts, stories, etc.
From the second perspective, this is completely wrong. In this, you enter into someone's story by hiding your actual identity.
There can be many tricks to viewing the Instagram story without knowing them, but this is one of the smartest. This technique has a problem: it will not work if the user has a private account and refuses to accept your follow-up request.
So, entering someone's story anonymously is a hit-or-miss technique in which you are completely dependent on the next step, which is to accept a follow-up request.
2. Using Airplane mode
This is a trick that you can use without changing your actual identity or creating any anonymous accounts. This is the most simple and effective trick on this list. This whole process is from the user's perspective and is completely safe and user-friendly.
In this trick, you have to follow some steps, so let's get into those steps:
First, open your Instagram mobile application
Then check if your mobile device is connected to the internet.
After this, without tapping on the person's story, open another person's story whose story is just left to that person's story.
Now open his or her story by sliding to the left (Make sure you slide a little bit so the story is not fully viewable).
Now, wait for a minute.
Then turn on your mobile's Airplane mode and open the story. You'll see that the story is already loaded. Now, you can see this without knowing the person you viewed.
This is to be noted: don't turn off airplane mode while viewing the story or still on Instagram.
Turn it off only after closing the application.
3. By Blocking that person
In this trick, you view the story with your actual account without knowing that you have viewed it. Nothing has to do with this trick. Follow our steps individually, and you can do this trick.
Now, in this trick, view the story of the person you want to see. Then, immediately after seeing it, block that person for more than 24 hours (because stories can be viewed for up to 24 hours). After 24 hours, you can unblock that person.
There is only one risk with this: if you take too much time to block that person after viewing the story, there are chances that he or she will come to know about your view.
4. Using Online Instagram Stories Viewer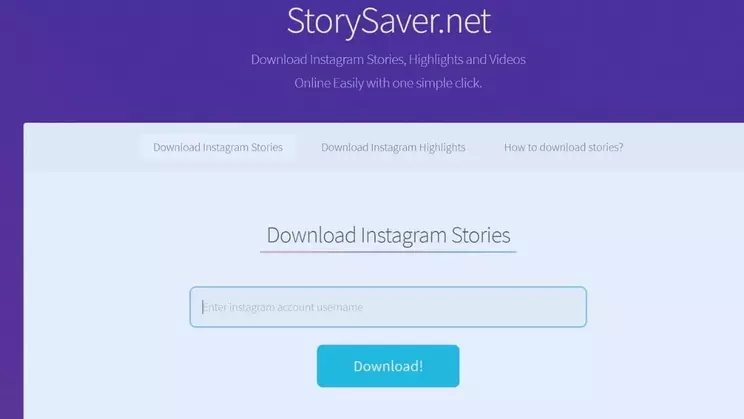 We recommend you use an online story viewer, which will be safe, and do not let the person know about this activity. There are tons of online Instagram story viewer tools on Google; you can use any of them. Just make sure that it is from a safe and secure website.
We recommend the storysaver.net website, but you can use another website if you are not okay with it.
Go to YouTube and search for the highly used Instagram story viewer websites, then ask Google for that website and check it.
There is only one problem: it can only work when the account is public; if it is private, it might not work.
This is one step ahead of viewing the story without them knowing, and it also provides you with the instant download option.
5. Install Chrome Extension on the Desktop
The last method to view someone's Instagram story secretly is using a Chrome extension.
The Google Chrome web store also provides several helpful extensions to browse Instagram stories secretly if you use Instagram on a computer.
Follow these steps to install the Anonymous View Extension in your Chrome browser:
First, search for the Chrome Webstore in your browser and click on the first link.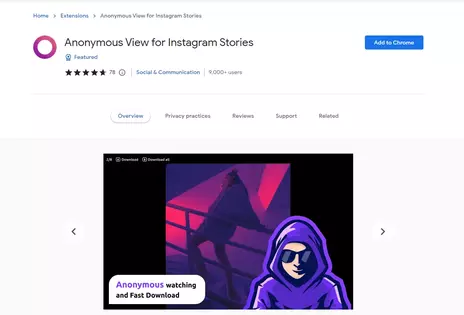 In the Google Chrome Web Store, Search for the "Anonymous View for Instagram Stories" extension
Click the extension button in the top toolbar to open the installed extension.
You need to log in to your account to see all of the stories
To view someone's stories anonymously on Instagram, click the Eye icon next to their username.
Video Guide:
Verdict
We hope you enjoyed our article and learned how to view someone's Instagram story without them knowing.
Instagram stories are a way for people to share snippets of their lives in video form with their followers.
Instagram stories are more personal than Instagram posts because they are shorter and usually more candid. Many people love following the stories of their favourite Instagram accounts.
Thank you for reading; we are always excited when one of our posts can provide helpful information on a topic like this!
How do you stop spam accounts from viewing your story?
You can private your Instagram account to stop spam accounts from viewing your story. Only your followers can see your Instagram story when your account is private.
How to See Someone's Instagram Story Secretly?
If you want to view the Instagram story of someone secretly.
The most effective method is to open a separate Instagram account on your phone from your main account. You can also use many third-party apps.

Hello, Myself Rana, the founder of Bugswave.com, where I assist others with their technological problems and guide them through the process of resolving them.
Share with others