This post will show you how to find Instagram story drafts. You can easily access your story draft on Instagram using the following steps.
Instagram is one of the most popular social networking sites where you can share your pictures and connect with people. Instagram users share a lot of photos with different filters and they leave comments on pictures of other users.
The story is a feature that was introduced on Instagram in the middle of 2016. It is a feature that has been well received by users and in general, it has encouraged users to use the application more.
Table of Contents
How to add stories to the drafts on Instagram?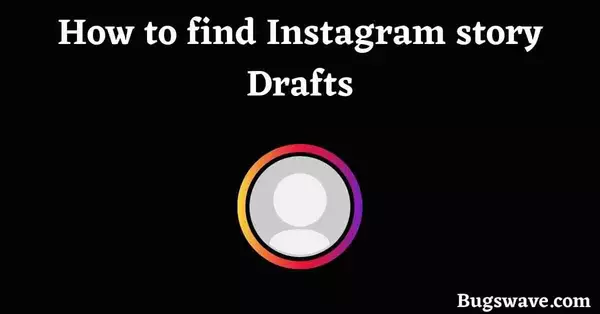 You can draft your story if you haven't added it to your stories yet but if you have already added it and you are trying to draft then, there is no way you can draft it. There is the only way which is to delete it.
Now to draft the story, just follow our guided steps one by one. Open the Instagram app on your phone first.
Make sure your Instagram account is already logged in. Please login first if you haven't already.
Now, tap or swipe to the right on your story's handle in the upper left corner.
Swipe up the screen or hit the square picture icon to select an image or video.
After selecting an image or video, edit it with a variety of tools, including filters, stickers, and text.
In the top-left corner of the screen, press the x button to continue.
After that, a confirmation window will appear. just click save draft.
How to Find story drafts on Instagram
Now to find draft stories on Instagram, simply make sure that you have logged in to your account on Instagram to which you saved your draft story.
In addition, stories that are still in the draft stage have no time restrictions. They will stay there as drafts until you decide to delete them.
Now open up the Instagram mobile app and go to the stories section in the upper left corner of the screen.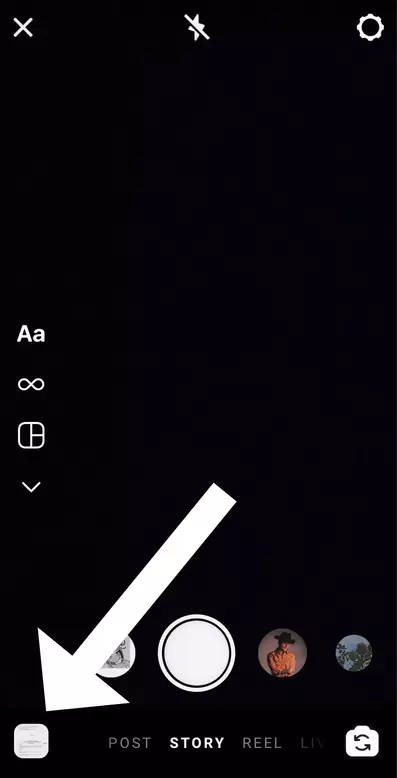 Go to the 'Gallery' section in the lower left corner of the screen (you can see some of your gallery photos as the icon) and simply click on it.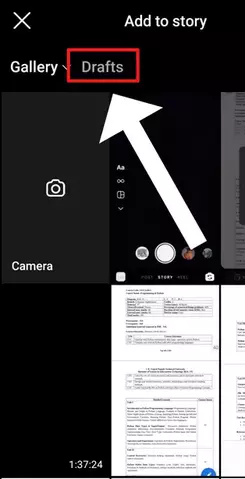 You'll land at the gallery section, Now you can see a 'Draft' option just next to the 'Gallery' option at the slightly upper left corner of the screen. Just tap on the draft option.
Now you can see all of your drafted stories here and can be added to your stories from there directly.
Also if the draft option is not there, then this means there are no draft stories of yours on Instagram or you have already deleted them.
How to edit a story in the draft?
If you carefully read all of the preceding steps, editing the draft story will be a simple task for you. So there's nothing to do here except follow the above steps until you find your draft stories.
Now click on the story you want to edit and you'll land into the story editor of Instagram the same as you add fresh stories to your Instagram. All the editing tools will be there to edit your story you can use them.
If you have that video or image in your gallery too then, you can edit it using third-party editors.
How to delete Instagram story Drafts?
1. Open your Instagram mobile app of yours by making sure that you have logged in to the same account in which you save the story drafts
2. Open the story section by just swiping left on the screen and you'll land on the story section.
3. Tap on the 'Gallery' icon from where you select your images for adding to your story.
4. On the top left corner, there will be a draft option just next t the gallery option. Tap on it.
5. After getting into the drafts you can see all your drafted stories.
6. Long press on the story you want to delete and you'll see the delete option displayed at the bottom of the screen. Then tap on it to delete that story draft.
Who can see my drafts on Instagram?
Your story drafts are kept private and only visible to you until they are published. So, it is not possible for anyone to view your saved story drafts.
you can draft stories on Instagram as much as you can and no one will be able to see those draft stories except you. For publishing them one by one, see our guided steps.
Video Guide:
Last words
We hope you like our article about how to find Instagram story drafts. This post also covers how to edit, save, and delete your drafts.
It doesn't matter if you are looking for your own stories or someone else's, the steps are the same. Now you can go through your story drafts and finally post them to your Instagram story feed.
Thank you for reading; it makes us happy to know that one of our posts has helped you learn something about this subject.
Frequently Asked Questions
How to find drafts on the Instagram stories?
Here are the steps to find story drafts on Instagram-
– Go to the Home tab in the Instagram app, 
– select "Your Story" in the top-left corner. 
– In the "Add to story" screen, select "Drafts" by tapping the thumbnail of the camera.
– Now You can view all the Instagram stories
How to access drafts on Instagram 2022?
To access drafts on Instagram, you first need to open your Instagram.
Tap your story handle or swipe right 
Next, swipe the screen upward
On the right side of Gallery, tap the Drafts menu

Hello, Myself Rana, the founder of Bugswave.com, where I assist others with their technological problems and guide them through the process of resolving them.
Share with others