Today, we'll look at some aesthetic Discord bio ideas for you to use in your profile. You can directly copy and paste these ideas.
You won't need to look any further because we've gathered some of the most engaging bio ideas for Discord profiles in this article that you can use immediately.
You may have come to the right place if you have been using Discord but don't know what to put in your Discord bio.
The bio or about Me option on Discord is a great way to introduce yourself to others and discover more about them.
Before Discord included this area, users could post a witty quotation, an emoji, or a description of themselves using the "Custom Status" feature.
You may also be interested in the Top Funny Locations on Instagram.
Table of Contents
10+ Best Discord Bios Ideas Aesthetic Templates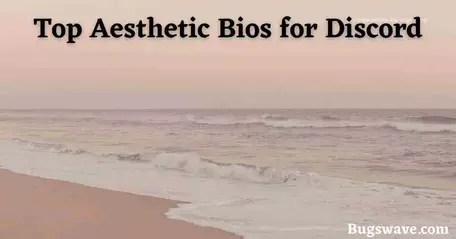 ★彡( I'm pleased with myself. )彡★
꧁༒☬New 𝕱𝖔𝖓𝖙𝖘☬༒꧂
︻╦̵̵͇̿̿̿̿╤─ Ä꧆hê†ï¢ £ðñ†§- – – – – – – -ˎˊ-
︵‿︵‿୨♡ Error: Bio is not available. ♡୧‿︵‿︵
. . . . . ╰──╮ΔΣSTHΣTIC ҒΩΠTS╭──╯ . . . . .
█▓▒­░⡷⠂create your own set of rules⠐⢾░▒▓█
———๑•̀ᴗ•̀) ǟɛֆȶɦɛȶɨƈ ʄօռȶֆ (•̀ᴗ•̀๑———
୨⎯ハ Let's get lost here ハ⎯୧
⎝⎝Enter Your Bio⎠⎠
▄︻デYour NAme Here══━一
Some people have different days in their lives.
I hope your day is as wonderful as your smile.
Allow us, oddballs, to be the rainbow in your cloud.
Being single allows you to think for yourself and grow.
A smile increases the value of your face.
Consider whether you live in film or reality.
Things are getting better.
Love cannot be seen with the eyes.
A place called home can be found somewhere between crazy and random.
I did not fail because I took longer than others.
I'm as straight as quantum physics.
I'm taking you to some beautiful places.
The dream is free, but the hustle is not.
"I am a human being."
It's a total mess but a masterpiece.🔥
All stupid love songs give me insight after we meet.
Sad stories arouse the appropriate emotions in your soul.
I lost my mind but discovered my heart.
You can create a one-of-a-kind design by combining emojis and special characters. One example is using various forms of arrows, stars, and other symbols to make a visually attractive design.
20+ Best Aesthetic Discord Bios: Copy and Paste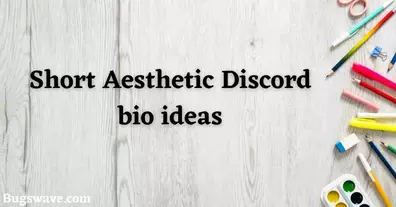 ˚₊· ͟͟͞͞➳❥You can Enter Your any bio here ⋆* ⁺⑅
↳ ❝ [ Enter Your bio Text Here] ¡! ❞
┏━━━━°⌜ Insert Your New bio here⌟°━━━━┓
. . . . . ╰──╮It's out of this world. ────────────○─
↳ ❝ [ Enter Text Here] ¡! ❞
Sunsets are proof that even endings can be beautiful.
Grace enhances your beauty.
Look in the mirror to see who your opponent is.
Only you can define yourself.
I'm pretty good at making bad decisions.
It thinks it works if you want it badly enough.
Did you not notice the crown I was wearing before you spoke?
Perhaps one day, you will find peace with yourself.
This is not a place for the faint of heart.
Please don't put your filthy hands on my crown.
If your stomach disagrees, lie down and calm it down with cool thoughts.
Keep your cool and enjoy life.
Manners are appreciated in a cool climate.
Neither lost nor discovered.
Motivation is what propels you forward. What keeps you going is a habit.
Sleeping does not complete the dream!!!
Surround yourself with people who will understand your heart and mind.
I'm sorry, but I have a dull face every day.
Every angel contains a devil.
To be honest, I was never yours.
Seek out what ignites your soul.
Anyone is capable of becoming anything.
Allow yourself to admire your flaws…
"I despise sacrificing my dreams for the sake of others."
"I have a sassy and cheeky personality."
Have a little fantasy, dream of me.
Born at an unusually young age.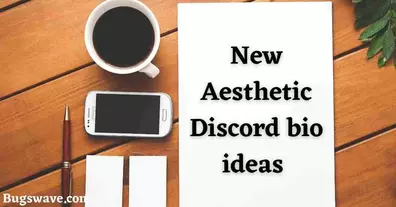 Real is more appealing than perfect.
When life hands you lemons, add vodka.
Allow your imagination to run wild.
You can either play the game or be played by it.
In a dark world, look up at the stars.
Making an effort to watch more sunsets than Netflix
I'm physically here, but my mind is elsewhere.
I adore the world, but the world does not adore me.
Being kind is not a crime.
Simple pleasures can bring happiness.
Creating a path for my imagination.
Even when we try to sell our loneliness, no one is interested.
We need to take our adventures where they belong.
Try not to tell me how I should live my life.
My thoughts are like whispers in the wind.
Last words
We hope you enjoyed reading our article and explored some of the best aesthetic discord bio ideas.
Discord is a text and voice chat app that is both free and versatile. It is primarily used by gamers, although it can be used for other types of online communication as well.
A Discord server is an excellent tool for promoting your content and interacting with your target audience.
At last, thanks for reading this article. If you have any other suggestions, comment below the post.

Hello, Myself Rana, the founder of Bugswave.com, where I assist others with their technological problems and guide them through the process of resolving them.
Share with others