This article will show you the top funny Instagram location ideas tags and how to add them to Instagram posts.
Instagram is known for giving us a peek into people's lives and showing us their personal experiences.
That's why some of the best photos on Instagram don't show the most amazing places or objects.
Sometimes, the most intriguing Instagram photos are the ones that show us something that we'd never expect to see. That's what makes these photos so funny.
We will share 15 of the funniest Instagram location Tags in this article, and we hope you find them as amusing as we do.
And we have already shared a post on the best 50+ Cool Instagram locations on our website; do check it out.
Table of Contents
How to add a funny location to an Instagram post?
Now, adding a funny location on Instagram is not a big deal. You have to add the sites as you usually do; the location will decide whether it is funny or not. There is no need to be at that location to add the location to Instagram.
You can be at home to add a location far away from your home. To do so, follow our steps individually, and you can add the location on Instagram. 
Open your Instagram mobile application. 
Now tap on the '+' section displayed on the top of the home screen, just before the messages section.
Now, select any image you want to post.
After selecting the image, click on the arrow pointing to the next page on the right side of the top of the screen. 
Now, you can select the filter you want to add to your post. 
Now, just like before, click on the arrow that points to the next page. 
Now, just below the image you selected, an option says 'Add location.' Tap on it to add the location to your post. 
Now, you can also select your current or nearby locations by clicking the button at the front of the page. 
You will see the list of your nearby locations, and above that, there is a search bar to search your locations. Now, search for any location you find funny just by tapping it.
Here is the list of funny locations on Instagram: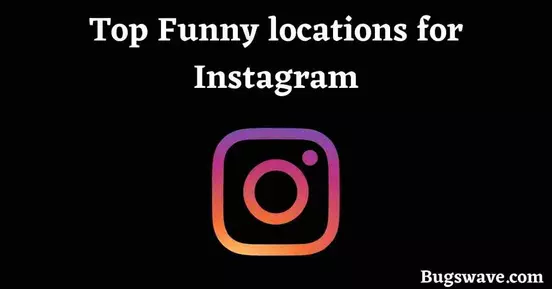 1. Shine bright like a Diamond
2. Euphoria
3. I need coffee
4. Send Help
5. Home Sweet Home
6. TikTok
7. Bob Ross Studios
8. Planet Earth
9. Making Magic
10. Hungry
11. Giveaway Time
12. GOSSIP GIRLS
13. Hell on Earth
14. DRUNK IN PUBLIC
15. Virgin Island
Why should you add funny locations to your Instagram post?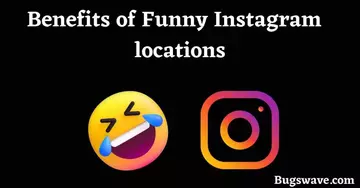 ● Help to gain more engagement: This will help you gain more engagement, which means people will stay on your post for an extended period and enhance your engagement.
Instagram will start showing your post to more people just because they like it. This will also boost all your posts, and you can get more likes from unknown people if your account is not private. 
● Help to get more organic reach: What we discussed in the above step is called organic reach. People organically reach you just because of your posts.
There is no need to share your posts yourself; people will automatically reach your post if your engagement is good. 
● More users comment on posts with funny Instagram locations: Funny locations somewhere entertain people, and people often comment on something they enjoyed watching, so from this, your comments will increase, which is also a good sign for engagement. 
What will happen by adding Funny Locations to your posts?
Therefore, advertising on Instagram is the most straightforward strategy if you want to expand your business globally. If a profile's postings include several different places, Instagram will display those posts to users who are interested in that location.
Since hilarious locations are well-liked worldwide, using them in your pictures will enhance engagement on Instagram by attracting people who have ever searched for that location. People searching for that location will automatically see your post without searching your profile.
Popular brands use this technique to promote their product around the globe because this increases brand discoverability, and people worldwide reach their products automatically on Instagram.
So, if you own a company and want to promote it on Instagram, try this technique, and you can promote it for free.
There is no need to add only funny locations on your posts; you can add any popular location you have noticed while scrolling on Instagram. Then, you'll be able to bring tons of organic traffic to your post, which can increase your sales if you are promoting a product.
Last words
We hope you enjoyed this article and explored some funny Instagram locations. A funny Instagram caption enhances a photo significantly.
Creating this list was a lot of fun, so we hope you enjoyed it as well. We are always looking for new and exciting places to add to this list. If you have a suggestion for a good Instagram location, we would love to know about them.
We hope you enjoy checking out our blog for more exciting content about Instagram and other related topics.
Frequently Asked Questions
How to add Funny locations on Instagram?
To add funny locations on Instagram, Follow the below steps-
– First, open your Instagram, then Swipe left to post a Story and click on the emoji icon.
-Here, Search for the "Location" feature.
– Now, Search the Funny location you want to add to your Instagram post.
– Finally, Click on your location and place it where you want on your Story.
What are the benefits of using funny locations on your Instagram post? 
There are many benefits of using funny locations for your Instagram post. If we use funny locations, it helps us to increase our organic reach. And it also increases our engagement rate as more users comment on posts with funny locations.

Hello, Myself Rana, the founder of Bugswave.com, where I assist others with their technological problems and guide them through the process of resolving them.
Share with others