Are you looking for the best explanation of the "What is Samsung visit in" app? Then, we are to share with you all about this app.
This post will explain everything about this app and how to remove it from your device.
We already know that Samsung has a vast, profitable electronics network worldwide. They always care about the user experience, just like Apple.
Of course, Apple and Samsung are the biggest rivals, but we cannot ignore the excellent services of these two brands, which is the reason for their success. 
Unlike other brands, Samsung introduces new features for users every year to increase productivity, which creates a positive image of the company.
However, users often struggle to understand how to use these new features. In this article, we'll explore some of the critical features of this app and how to integrate them into daily life.
So, to know the answer, let's jump into the article without wasting any time. And you may also like What is com.samsung.android.app.sharelive? On your phone.
Table of Contents
What is the "Samsung Visit in" app on Android?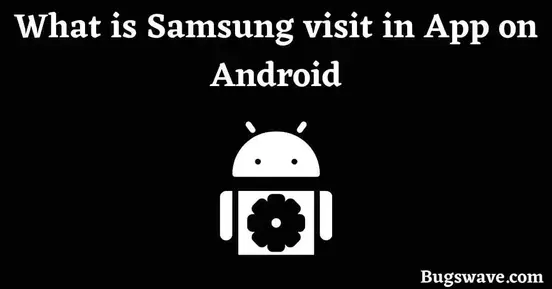 "Samsung visit in" is a feature of the Samsung smartphone that notifies you of the best offers on Samsung products or services near you through push notifications.
One great feature of this app is a commendable effort by Samsung. Now, let's know a little bit about it.
This app notifies you through an emergency pop-up message if you're in an infectious disease or natural disaster zone. This can be so helpful for everyone that we cannot imagine.
We can take quick action in natural disasters before or at the right time. Isn't it helpful for us?
Yes, it is, and it also has some fantastic features that can be eye-catching for those who love Samsung products. 
Samsung's new feature is great for shopping lovers, especially for those who love shopping for electronic products. This feature is known as "Samsung visit in" and is location-based.
Which provides pieces of information to the users according to their location. As we said earlier, it relates to shopping, discounts, coupons, services, etc.
This feature provides us with information about the services of Samsung near you; it can be somewhere in the mall or the local market.
This informs you only if that location is about 100 meters from your current location; this means whenever the notification pops up, it will be sure that you are somewhere around Samsung's official store.
So, as we know, this is location-based functionality that only works if you have enabled location-based notifications in the settings. This feature strongly needs location updates every time it runs on your smartphone; otherwise, it will not be used.
So, to enable it on your smartphone, follow our steps:
● Go to the settings of your Samsung smartphone.
● Then go to the "Apps".
● Now tap on the "Samsung visit in" option.
● After this, tap on the "Samsung visit in settings" or the Location icon, which usually represents the location-related apps.
● From this, you can enable it on your phone by turning on the "location-based notification" option.
Do I need the "Samsung visit in" app?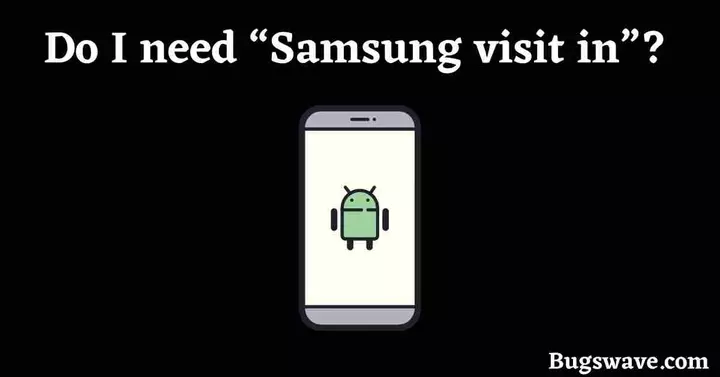 We strongly recommend this app to you, not just because of the services or coupons but also for the safety reasons we discussed earlier.
If you are a shopping freak, love shopping for electronics in stores, or love Samsung products and services, then you should use this app. This will provide you with the best offers at that time.
This provides coupons for the best-discounted prices on Samsung products near you.
This not only notifies you about the services but also directs you toward those services through tracking. You can grab the opportunity by following the location they recommend to you at that time.
Now, it is up to you whether you need this app. If you didn't find this helpful after using it for some time, you can easily disable it from your smartphone. For the exact process of disabling it, continue reading. 
How to disable the "Samsung visit in" app?
Removing or disabling it from your smartphone is a very simple process. Just follow our steps to know all about the process.
● Go to the settings of your Samsung smartphone.
● And now go to the "Apps" option.
● Now tap on the "Samsung visit in" and then "Samsung visit in settings" and proceed.
● After this, tap on the "Emergency alert settings."
● Just turn off the "Emergency Alert" option.
Video Guide:
Wrapping up
Thank you for taking the time to read this article; we hope you enjoyed it.
So, in the end, we just want to say that you should go for this app if you find it helpful because it has great features like emergency alerts that we recommend.
So if you found this interesting, then it is our pleasure to serve you this kind of service, but if you have any queries about this article or some complaints, then you can comment so that we come to know about our mistakes.
Frequently Asked Questions
What is the "visit in" app on my Samsung Android phone?
This app provides users with information based on their location; as previously stated, the news is related to shopping, discounts, coupons, services, etc.
What is the use of the "Samsung visit in" app on Android?
It will be used as part of Visit In to track your location, detect when you are in a store selling Samsung products or services, and then serve relevant ads.

Hello, Myself Rana, the founder of Bugswave.com, where I assist others with their technological problems and guide them through the process of resolving them.
Share with others