Today we will solve your query about "why Spotify deleted my account" and what you should do after your account gets deleted.
Spotify is a popular music service that allows you to listen to music on mobile devices, PCs, and home theaters, but sometimes the account can be deleted.
What if your Spotify is deleted?
If you are the owner of the deleted Spotify account, you will lose access to all the music stored in your account.
This is a real tragedy for fans of the popular music service. You can not just forget about your account, but you will have to quickly regain access to it.
Table of Contents
Why did Spotify delete my account?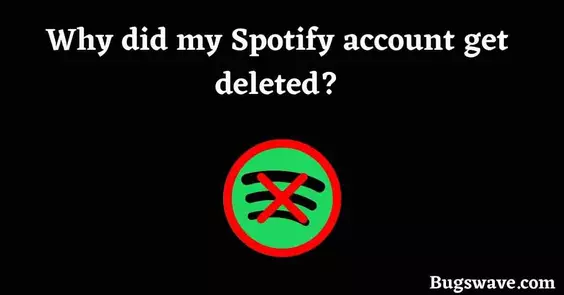 Here are the top 5 reasons why a Spotify account was deleted-
Violating Spotify guidelines: Violating the guidelines of the app can lead you to ban your account from it. So always read the guidelines first before doing anything strange on the app.
Try to modify Spotify: There can be chances if you tried to modify the account from premium to free then this happens sometimes but there is no big loss here because you have already switched to the free version of it and it doesn't mean a lot for the user if his account got banned.
Buy Spotify from unusual means: Buying this app's premium subscription from an unknown source then it can be risky for your account and it can have some unusual thing that violates the guidelines of the app.
Your connected account gets removed: If you created your Spotify account by using Facebook or you had linked your Facebook account with your Spotify account and if you delete your Facebook profile then your Spotify account will also get deleted.
In some cases, this takes time to happen because Facebook accounts take time to be completely deleted from the app.
Use of third-party apps to convert Spotify music: This can be the major reason if you have ever used third-party apps to convert Spotify music to show into your gallery then this will completely violate the guidelines and the chances become higher to get banned.
3 Ways to Fix Spotify deleted account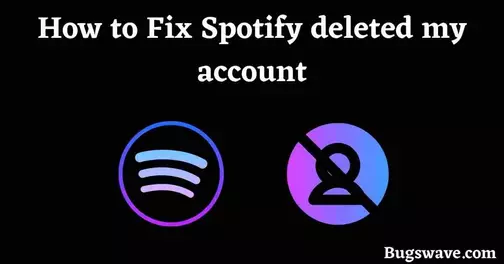 If you try and access your Spotify account and get a message saying that your account has been disabled, there are some steps you can take to sort this out.
Here are the best ways to fix Spotify deleted account issue
1. Clear Spotify data and try again
The first thing you can try to fix your problem is to clear the Spotify cache and data in the settings.
Just follow the below steps to clear Spotify data –
Open the settings of your phone and search for manage apps
Here click on the Spotify app
Then tap on the clear data
After completing these steps try to log in to your account again
Before attempting the other methods, ensure that you are using the correct login screen. Double-check the email and password that you enter.
2. Reset your Spotify Password
The 2nd method that you can try to recover your Spotify account is Resetting your Spotify Password. Just Follow the below steps if you don't know how you can reset your Spotify password-
First, open Spotify on your browser and go to the login page.
Here click on the forgot password option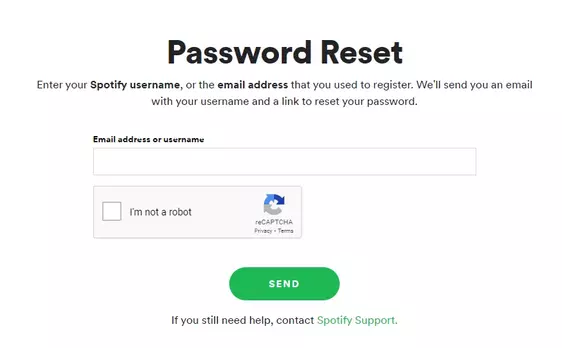 Now Enter the email address connected to your Spotify account and press 'Send.'
Open your Gmail account and look for an email from Spotify with the subject 'Reset your password.'
Open that email and click the "Reset password link".
You will be taken to a new page. Here Fill in your New password in both fields and click 'Send.'
Now that your Spotify account password has been reset, return to the app and log in with the correct email address and new password.
3. Contact customer support
Suppose you have a problem with your account, such as it being deleted. In that case, the only way to resolve it is to contact Spotify's customer service team via their social media accounts. You can also fill out a Contact Us form, which can be found on Spotify's official website.
If you have a Facebook account, you can use it to post your complaint or request assistance on Spotify's official support page. All you have to do is go to Spotify's official support page to get started.
But, I recommend contacting support directly through this Anonymous contact form.
You can contact them using this contact form if you do not have access to your Spotify account or the email address used to create it.
Last Words
We hope this blog post has helped you to resolve Spotify deleted my account problem and your account is now operational. If you're having a problem where Spotify deleted your account, you can fix it by following the steps in this blog post.
If you have any further questions or concerns about Spotify deleted account, please comment here at any time
Thank you for reading again; we are always delighted when one of our posts can provide valuable information on a topic like this!
Also Read: How to Fix Video Resolution not supported
Frequently Asked Questions
Can I delete my Spotify account?
Yes, you can delete your Spotify account. To deactivate your Spotify account, you must first access the Spotify website via an internet browser rather than the mobile app. If you have Spotify Premium, you must first cancel your subscription first.
Then To delete a free Spotify account, go to the Spotify website and navigate to Support > Account Settings > Closing Your Account > Close Your Account > Close Your Account.
How to unban your Spotify account?
If you want to unban your Spotify account, you can contact the Spotify support team through the following means-
– Through Twitter
– by Filling out a contact form on your account
– through Facebook support

Hello, Myself Rana, the founder of Bugswave.com, where I assist others with their technological problems and guide them through the process of resolving them.
Share with others