Do you also want to share Instagram reels to Facebook? In this post, we share a step-by-step guide to help you.
Instagram Reels can be shared on other platforms, including Facebook. This is extremely beneficial in two ways. For starters, it will allow your Facebook audience to see your Instagram content, which may result in more likes and shares.
Second, it will demonstrate to people who only use Facebook that you are also active on Instagram.
If you use Instagram and Facebook, you're probably aware of Instagram's video reel feature, which allows you to create and share videos on Instagram. Meta has added a similar feature to Facebook.
You don't have to make a separate video to upload on Facebook; instead, you can share the same video you made on Instagram directly.
Table of Contents
Best Way to Share Instagram Reel to Facebook Story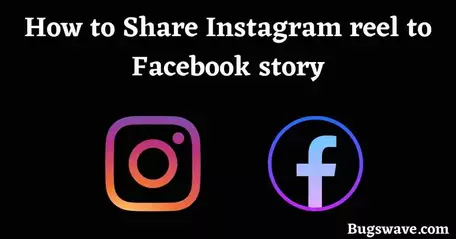 Here, we are going to tell you about the best way in which you can share your Instagram reel to Facebook quickly and easily. There is no need to install any third-party app on your mobile phone; you just have to go to a website that is actually a tool website, and it will do all of the work online.
We don't recommend you visit any risky websites; this website is already being used by our team. we are now recommending it to you after properly testing it for some days. So you don't have to worry about the privacy violations on this website or other virus-related issues, just go and do what we are saying.
So, here are some steps you must take one by one in order to seamlessly share your Instagram reel to your Facebook account. So let's get into the procedure without wasting any more time.
Here is how you can Share the Instagram reel on the Facebook story –
To begin, open your Instagram app and look for the reels you want to share on your Facebook story.
Now, after opening the reel, click on the three-dot button in the bottom right corner.
Then on the "link " button copy, the Instagram reels link.
Now that you've copied the link of the reel and to download the reel search for an online reel downloader on Google like Insta reel downloader.
Now paste your copied link to that tool website and download your reel.
In the next step open your Facebook and navigate to the post stories section.
Now simply tap on the post story option and select the reel you have downloaded.
By following these steps, you can easily share your Instagram reel on Facebook. And in the same way, you can also share your Instagram reels with other social media apps like WhatsApp, Snapchat, etc.
Why can't I share my Instagram reel on Facebook?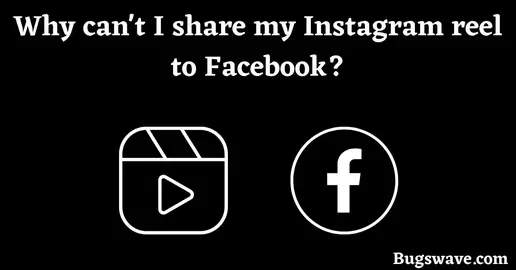 To share your Instagram reels to Facebook, you need to link your Instagram and Facebook accounts in Accounts Center. Without this, there is no option to share or do anything with your Facebook account through Instagram.
As we know, Facebook's owner bought Instagram a few years back. So it is now possible to connect both of your social media accounts, so there is no worry about successfully linking your accounts.
So without wasting more time, go to the Instagram help center or Instagram app to link your Instagram with your Facebook.
If you don't know how to share your Instagram reels to Facebook automatically you can check out our recent post on How to Post a reel on Facebook from Instagram.
Can you share a reel on Facebook after posting?
Yes, you can also share a reel on Facebook after posting. Just follow the steps mentioned above and download your reel from Instagram. Then you can easily share it on Facebook.
We have shared the best way to do this with you, and there is no other better option to make this possible.
In this article, we are trying to provide you with the best way to solve your problem, and we did that in the above heading. so to make your work easy, we are going to provide you with a video guide to help you visually.
Video Guide: How to share your Instagram reel to Facebook
This is the video guide that we have found for you to make your work easier, and we think this is the best way to point you in the right direction.
If our guided steps are not enough for you to solve your problem or you are stuck on any of the steps then we think this video guide will definitely help you out.
Last words
We hope you enjoyed our article on how to share Instagram reels on Facebook.
Instagram is a popular social network, particularly among those who wish to share photos, videos, stories, and so on. So, if you want your Instagram reel to be shared on Facebook, you may read this blog post just made for you.
You'll find the solution to your problem right here.
If you have any other queries about Instagram reels, just comment in the comment section and we will answer you as soon as possible.
Frequently Asked Questions
Can I see who watched my reels on Facebook?
On Facebook, it is impossible to determine who saw your reels. On Facebook and Instagram, though, it is possible to see who liked your reels.
How can I see who shared my reel on Facebook?
You cannot view who shared your reel on Facebook. The app simply displays the number of times the post was shared, which suggests that Facebook is limiting this feature.
How can I see who shared my reel on Instagram?
Like Facebook, Instagram also won't tell who shared your Instagram reels. It only displays the number of times your reel was shared.
Also note that to view who shared your post and your overall share count (if accessible), you'll need an Instagram business or creator account.

Hello, Myself Rana, the founder of Bugswave.com, where I assist others with their technological problems and guide them through the process of resolving them.
Share with others