Today we will show you how to recover deleted Snapchat accounts. You can follow these methods to recover your account.
Snapchat is a popular social media app that is used by millions of people all over the world. The main goal of this social media app is to share various multimedia content with your friends and family members.
This application allows you to share text, images, videos, and audio files. Accounts on Snapchat are deleted for a variety of reasons.
Snapchat accounts are deleted due to a lack of interest, account hacking, and other factors.
Table of Contents
Reasons why Snapchat deleted my account?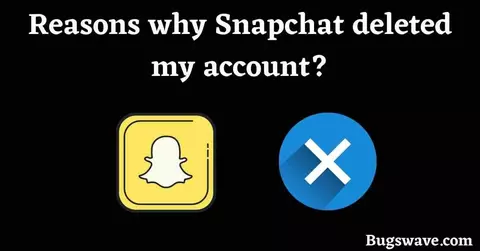 There are mainly three reasons that Snapchat noticed before the account ban:
Violation of privacy policy
Fake account
Usage of third-party app to access the Snapchat account
Let's first check out some reasons for this. There can be so many reasons for a deleted Snapchat account.
Snapchat prioritizes users' privacy and data security, they don't even compromise with minor mistakes. So there must be a strong reason to delete an account from Snapchat. 
-Violation of Privacy Policy
This is the main reason for every deleted account on Snapchat. You should take this seriously as well to save your account from deletion.
As we already discussed that Snapchat is always concerned about its user's privacy and the team does not take any time to delete such kind of accounts that violate Snapchat's Privacy policy.
-Fake account.
Snapchat must have found your account to be Fake or strange over some activities of yours. This could also be the reason that they deleted your account.
-Use of a third-party app to access your Snapchat account.
People always use third-party apps to access their Snapchat accounts because that apps provide you with extra features that Snapchat alone doesn't provide you.
These extras always being the reason for the deletion of the account. These are always the features that violate the app's privacy policy. So avoid using such types of apps and do not risk your account for some silly features.
These are the three main reasons for every deleted account, And Snapchat takes these very seriously as this is a matter of their privacy and data security.
Moreover, you should take a look at the algorithms of Snapchat, if you are afraid of your account being deleted.
Can you recover a deleted Snapchat account?
Yes, there are some ways by which you can recover your Snapchat account and all your data. But we cannot assure you about the recovery because if the reason for deletion were not valid then it would be difficult to say that your account can be recovered.
Apart from that, these are rare cases where accounts have no recovery. These ways work in the majority of cases, there is no worry about it and I hope your case falls in this majority category. 
How to recover deleted Snapchat accounts?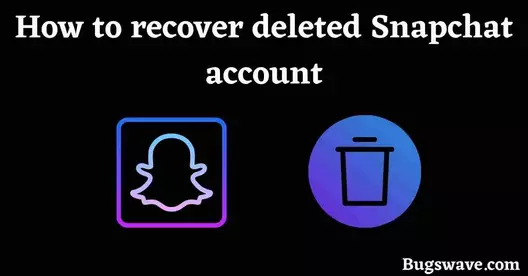 Snapchat has a limit to recovering a permanently deleted account.
It gives us a period of 30 days within which we have to recover our account from Snapchat otherwise it will be permanently deleted from Snapchat and there will be hardly a way to recover it completely.
When you delete your account from Snapchat, it will stay deactivated for 30 days after deletion.
When the time period of 30 days is over then it permanently deletes the account but if your time period is not over yet then you can try to login into your Snapchat mobile application and your account will be back to you.
If it still not showing anything after logging in then you have to wait for 24 hours after the first login and should try again after 24 hours. This technique has recovered so many accounts to date.
Follow these steps one by one if you are facing any trouble signing in:
Open your Snapchat Mobile app.
Then click on the login option to reactivate your old account.
Then enter your Email id and password in the following sections.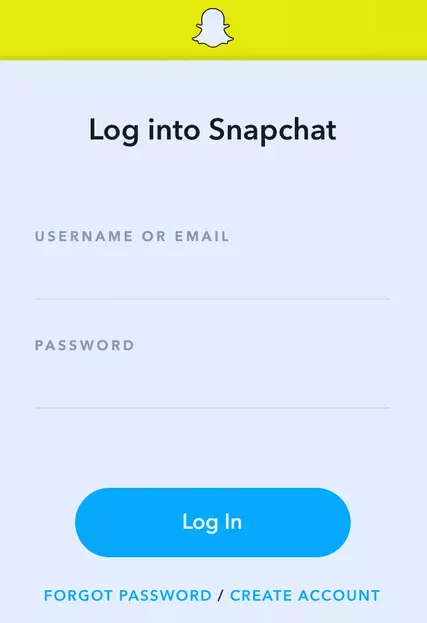 And then some messages will appear on the screen saying that your account is currently deactivated to activate it press yes or continue.
So you must press the continue option every time the message appears.
After all, this procedure will be back to you with all your data in it.
How to recover a deleted Snapchat account after 30 days?
Some websites say that there is no such way to recover the account after the period of 30 days is over but there is one way by which your account can be recovered.
As this method is exclusive that's why we don't take a guarantee for this method to be successful. 
So to do this you just have to go to Snapchat help and ask the Snapchat team for the recovery of your account. If your reason will be valid enough then there is some chance that they will return your account back to you.
Video Guide: How to Recover a Permanently Deleted Snapchat Account
Last Words
I hope you found this blog post about recovering a deleted Snapchat account useful.
We understand that many of you use Snapchat on a daily basis, and we understand how frustrating it can be to lose everything on your account.
We hope that by following the steps outlined in this blog, you were able to recover your account.
If you have any additional questions or concerns about the Snapchat account, please comment here at any time.
Thank you for reading; we are always delighted when one of our posts provides useful information on a subject like this!
Frequently Asked Questions
How to Recover Deleted Snapchat Account After 30 Days?
No, there is no way to recover your Snapchat account if it has been deleted for more than 30 days. However, you can contact Snapchat support and request that your account be recovered.
How to recover photos from a deleted Snapchat account?
You must first recover your Snapchat account before you can recover photos from a deleted Snapchat account. In this blog, we have already discussed how to recover a deleted Snapchat account.
How to recover a Snapchat account without a username?
You are more likely to forget your username if you haven't used your Snapchat account in a while or if you've switched to new devices. The simplest method is to use the email id and forgot password option to retrieve the account.

Hello, Myself Rana, the founder of Bugswave.com, where I assist others with their technological problems and guide them through the process of resolving them.
Share with others