You're looking for the best answer to "What is com.mediatek.ims.ims". Don't worry, you have landed on the right website
And your search for a better answer to your query has ended here.
MediaTek is a semiconductor company that designs and manufactures various components for your mobile devices. It is one of the leading semiconductor manufacturers in the world.
Your smartphone contains so many minor components that you may not even know MediaTek manufactured it. The most common products of this company are smartphone chipsets.
This article lets you understand how modern telecommunications services like VoLTE, video calling, and multimedia messaging are seamlessly integrated into your MediaTek-powered smartphone.
We have provided almost every possible piece of information about this topic in this article. Stay tuned for more details and learn about the related app called org.codeaurora.ims.
Table of Contents
What is com.mediatek.ims.ims app on Android phones?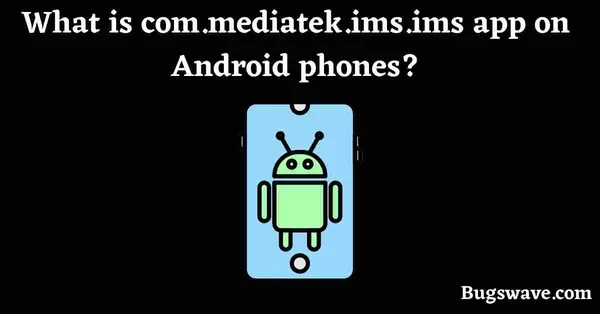 com.mediatek.ims.ims is a package name related to MediaTek's implementation of IMS (IP Multimedia Subsystem) functionality within the Android operating system.
Some may be confused about IMS, so let's take a look at its brief introduction. IMS is a standardized architecture used in telecommunications to deliver multimedia services over IP networks. It enables services like voice-over-LTE (VoLTE), video calling, and multimedia messaging.
This package name likely refers to a specific part of the software stack that manages IMS-related functions on devices powered by MediaTek chipsets. It handles tasks such as setting up IMS connections, routing calls and messages, and managing user profiles.
According to the reports, the app may also be used to provide other IP multimedia services in the future, such as group messaging, file sharing, and gaming.
Is com.mediatek.ims.ims app malware?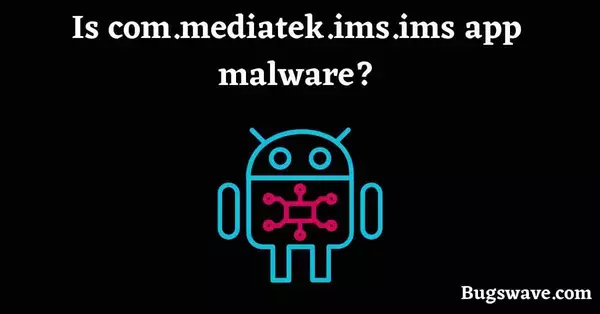 No, "com.mediatek.ims.ims" is not malware. It's a legitimate system app essential for VoLTE and other IMS services to work. MediaTek, a leading manufacturer of mobile chipsets, develops it. So it is clear that it is a safe and secure app.
It is a pre-installed app on all MediaTek-powered smartphones, so it must have passed all the security standards of MediaTek. So don't worry about your mobile's safety and privacy.
How do I fix "com.mediatek.ims.ims app has stopped" error?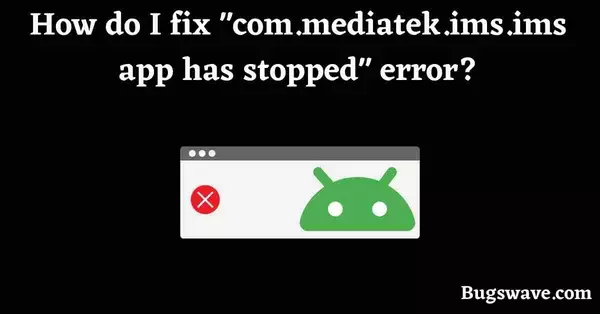 So many people face this issue on their smartphones, so we have made a tried-and-tested list of actions you should take immediately after getting this notification. You can try the following steps to fix the error:
Sometimes, apps can malfunction due to software glitches. Rebooting your phone can help fix these glitches.
So many Android apps run in the background and take up memory, which can slow down your phone and cause apps to crash, so rebooting is necessary.
Update the IMS app to the latest version
Sometimes an update of an app has bugs in it that are causing issues with devices. Updating an app will solve all those bugs and provide a smooth user experience. Updating the IMS app also fixes all the security vulnerabilities.
Update your Android system to the latest version
Here is also the same reason for updating: there are chances that the Android version has bugs and glitches. So by updating it, we can avoid those glitches.
If the problem is still not resolved, you can try disabling the app and then enabling it again. This will also fix glitches, if there are any.
Clear the cache and data for the IMS app
When you open an app, it usually stores some data in your phone's memory, such as your login information, settings, and recently used documents. This data is called the app's cache.
If the app's cache becomes corrupted or outdated, it can cause the app to malfunction. So it's better to clear it. By the way, clearing it will not delete any personal data from your device.
If the problem persists, uninstall the IMS app and factory reset your device.
Make sure that you move all your data to a safe alternative before moving ahead because, after a factory reset, your device will lose all the data on it. So it's good to move it to another device.
Conclusion
The com.mediatek.ims.ims app ensures that MediaTek phones run features, especially calls, efficiently. It's a necessary and safe component on these devices.
If you encounter issues, they can be addressed. Knowing about such apps on your phone is beneficial.
That was all about this article. We hope you liked our efforts in writing this article and learned something new from it.
At last, I just want to say thank you for reading this article. If you have questions about this article, please share them with us in the comment section. We'll try our best to answer all of them. Thank you again!
We have shared our guide in this article on resolving this issue; we hope it will help you.
Related FAQ
Can I uninstall com.mediatek.ims.ims?
Yes, you can uninstall it, but we recommend you not uninstall com.mediatek.ims.ims because it's a system app essential for VoLTE and other IMS services.
If you uninstall it, you cannot make or receive VoLTE calls or use other IMS services.
What does it mean when I see the error message "com.mediatek.ims.ims has stopped"?
This simply means that the IMS app has crashed. This can happen for many reasons, such as a software bug, a problem with your network connection, or a conflict with another app. 

Hello, Myself Rana, the founder of Bugswave.com, where I assist others with their technological problems and guide them through the process of resolving them.
Share with others