Are you looking for the best explanation of "com.android.captiveportallogin,"? 
You are on the right website; we will provide you with all the information about this file in very simple language so that any non-technical person can also understand the workings of this feature.
All the aspects of this topic will be covered in this article, so there should be no doubt left in your mind.
We have over three years of technical writing experience and offer the most comprehensive and up-to-date learning on all technology topics.
Com.android.captiveportallogin is the package name of "captive portal login," which is a preinstalled file in the Android operating system to ensure and facilitate the authentication process of any public Wi-Fi. And you may also be interested in what is Mobilewips app on your phone.
Let's talk about this topic in depth, so that every branch of it can be covered in more detail.
Table of Contents
What is com.android.captiveportallogin on my phone?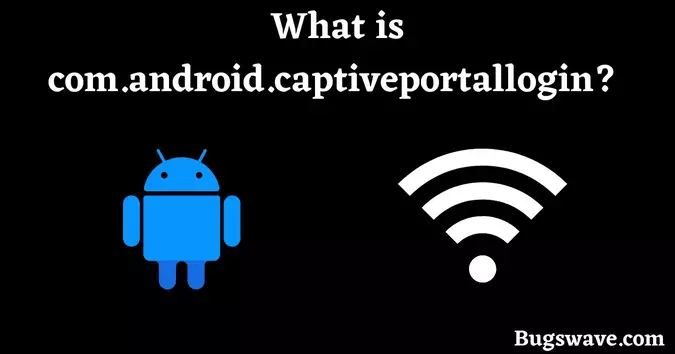 This is a package named "Captive Portal Login," which is developed by Google LLC to make the authentication process more secure.
We all know that people are provided with free Wi-Fi in hotels, airports, coffee shops, and many more public places. That open Wi-Fi is available to a number of people at the same time but in a limited range.
Connecting to that free or open Wi-Fi requires an authentication process in which everyone has to enter the pre-assigned credentials. As a result, whenever this open Wi-Fi is detected in your device (only when the Wi-Fi on your device is turned ON), this captive portal login displays or redirects the user to the captive portal login.
You have to enter all the credentials and accept the terms and conditions to use the network. And this com.android.captiveportallogin is responsible for detecting these captive portals. Furthermore, this package prevents the user from accessing the network until the desired credentials are entered.
Google created this package file to ensure the success of the authentication process so that no cyber criminal can enter people's networks and make illegal changes to their devices or steal sensitive information.
Because it could be as dangerous as a cyber attack, Google created this file to ensure that every device makes an encrypted connection with the portal.
Sometimes this portal displays advertisements to the users, which are obviously displayed by the sponsors, so you just have to close that advertisement to reach the right web page.
Furthermore, some wifi networks present their survey page to the user, where the user must agree to some options based on their thoughts. There is always a "skip" option to skip this survey if you are not interested.
What is the purpose of com.android.captiveportallogin?
The primary goal is to keep cybercriminals away from the general public who are connected to open Wi-Fi networks. As previously stated, in the absence of security measures such as captive portal login, cybercriminals can steal sensitive information from people connected to these networks.
Some public networks lack captive portal login, allowing cybercriminals to steal someone's bank details, personal information, bank statements, transactions, and so on, making this network dangerous for so many people.
Now, how can they steal someone's bank details with an unsecured Wi-Fi network? Suppose you are at an airport; obviously, you have your tickets on your mobile phone. Your ticket contains all of your personal details, which are sufficient to access your sensitive data. And all the hackers know this fact, and they use it as a key to do all kinds of cybercrimes.
That's why everyone is advised not to throw their tickets in the trash at airports. You never know who is watching and planning to rob you as you throw those tickets.
What does "used com.android.captiveportallogin" mean?
"Used com.android.captiveportallogin" means that your smartphone is using this package. Yes, there is no other meaning to this.
Now for more understanding, let's talk briefly about packages. A package simply follows its name, as it contains a package of different programs that combine together to make and run a particular feature on a device.
Permissions For This Application:
If you go to the settings of your smartphone, then you will be able to see the permissions that this application is using. We know that some important permissions are musts to run such an important task, and similarly, this application takes one important permission from your device, which is "Location."
This application may not be visible on your device because it is hidden on some phones; however, you can view it by selecting system apps.
What if Com.android.captiveportallogin running in the background?
There is nothing serious if this application is running in the background of your device, and there is no such battery-draining issue with this application if it is kept running in the background.
By the way, this application can only run in the background if you have turned on your smartphone's Wi-Fi. When you turn on your Wi-Fi, it automatically starts running in the background, and when you turn it off, this application also stops running.
Is captiveportallogin spyware?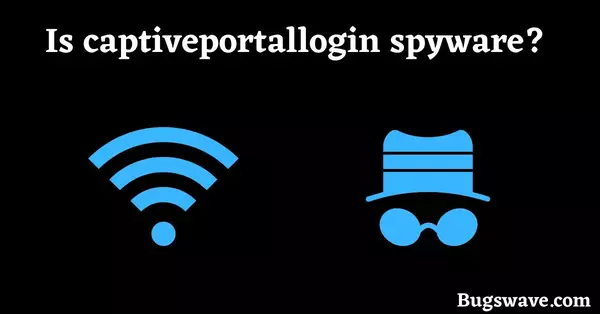 Absolutely not; this is not spyware. As we discussed above, this is used to establish a secure connection between the user and a public network. So it is clear that this is not spyware, but it plays an important role in protecting you from cybercrime.
Reasons for "internet blocked due to captive portal"?
There are so many reasons for this issue but there are only two major reasons for this. One is if you are device is set up to a custom DNS server, then it might create a problem in connecting.
The second is that if you use a VPN, it may cause issues when connecting. So turn off your VPN to connect to the network without issues.
How to fix captiveportallogin keeps stopping?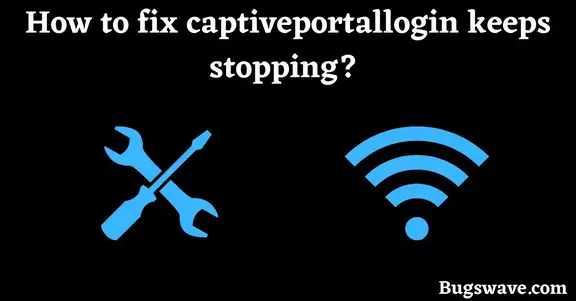 Sometimes the user gets an error while connecting to the public network and gets a message saying, "Captiveportallogin keeps stopping." But there is nothing serious about this. You just have to follow these simple steps to be able to connect to the network immediately.
1. Turn on and off airplane mode
This should be the first step taken after encountering an error while connecting to public Wi-Fi.
Because turning on and off aeroplane mode instantly refreshes the entire network connection, which is obviously useful if there is a connectivity issue.
2. Forget the Wi-Fi network
Second, remove that Wi-Fi network from your device and reconnect to it as a new network. Follow these steps to do this on your device:
Slide down your home screen.
Navigate to the Wi-Fi option and long-press it.
Now the settings page will be open, turn on the Wi-Fi by toggling the horizontal bar.
After the Wi-Fi is turned on, there will be an available devices option that keeps scanning for the new available networks.
Find the open network to which you were attempting to connect, select it, and then tap on forget the network.
3. Restart your Device
Now it's time to restart your device. Restart your device and let all the functions settle down for a minute. This will surely help you resolve your issue.
We all know that taking a break is a great thing. Similarly, restarting your device is just like that; after this, your device runs at full capacity.
Sometimes operating systems stop functioning because of excessive use or a heating problem, and restarting helps them bounce back to full capacity.
4. Clear cache
Clearing the cache would be great if it is still not resolved. Follow these steps to do this:
Go to the settings of your device.
Now select the storage option.
Go to the apps section and select system apps.
Now by selecting the individual app, select the clear cache option.
Don't worry, select only those apps you find related to the network connectivity of the device.
5. Update your operating system.
The device may be unable to connect to Wi-Fi because it has not been updated in a long time. So make sure that you are up to date with the latest version of the operating system.
Check for and update any security updates as soon as possible. We recommend that you connect to the open network after installing the latest security patch update.
Captiveportallogin apk Download
You can download the Captiveportallogin apk from the given website
Captiveportallogin apk Download
Conclusion
That was all about this article. We hope that you learned something new from it and that it helped you resolve your issue.
Finally, we'd like to emphasize that you should never connect to an internet connection that lacks a captive portal login web page.
That simply means that the network is not secure, especially if it is in crowded areas. Because crowded areas have more chances of getting hacked by cybercriminals.
Don't forget to leave your thoughts about our research on this topic. Thank you.
Related FAQs
Can com.android.captiveportallogin cause slow Wi-Fi speeds?
No, com.android.captiveportallogin should not slow down Wi-Fi speeds because it only runs when you connect to a public Wi-Fi network and not when you use Wi-Fi normally.
What is captiveportal login?
Captive portal login is a feature that is commonly found on public Wi-Fi networks found in coffee shops, hotels, airports, and other public places.

Hello, Myself Rana, the founder of Bugswave.com, where I assist others with their technological problems and guide them through the process of resolving them.
Share with others