Are you curious about what is Mobilewips app on Android or Samsung phones and if is it safe?
Then you are on the right platform, and we will provide you with every single piece of information about this app.
As we all know, Samsung is very concerned about its users' security and privacy, which is why it constantly develops such apps to improve its security.
They know that not every person is familiar with technology; some are in the learning process, and some are of an age where they don't know how to use a smartphone safely by following such a long list of precautions while using a smartphone.
Keeping this in mind, Samsung has created so many apps that prevent users from performing any task that could risk their safety.
Similarly, the MobileWIPS app is also made to secure users from wireless intrusion by cyber criminals, which can harm a user not only technically but also financially.
Let's talk about this in-depth, so stay tuned with us till the end.
Table of Contents
What is Mobilewips app on Samsung phones?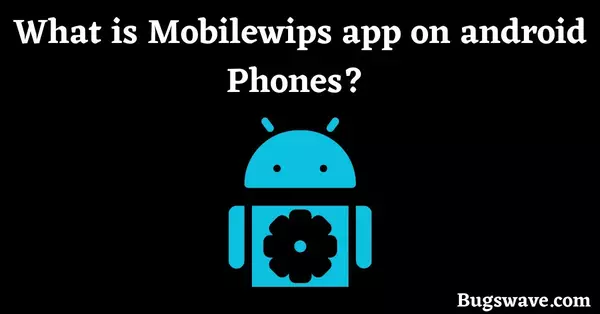 Basically, the MobileWips app is developed by Samsung Electronics Co., Ltd. As we discussed above, this app provides you protection from wireless intrusion.
It compares the MAC (Media Access Control) addresses of all wireless access points to the pre-authorized access points and informs the user in case some unknown difference is found.
A MAC address is basically an address type in a computer system, which a computer uses to communicate or transfer data from one computer to another. This helps to prevent users from connecting to fake or malicious access points that could harm their devices or steal their personal information.
What does com.samsung.android.server.wifi.mobilewips mean?
This is a package for this app called "MobileWips." A package file is a bundle of codes that are distributed as a single unit and perform as a running function of an app.
Is mobilewips safe?
By analyzing all the features of this app, we can only say that it is totally safe. As we mentioned above, this app was developed by Samsung itself, so it's clear that it's safe enough to be on our smartphones.
You may also be interested in What is com.android.keychain on my phone.
How to fix mobilewips keeps stopping errors?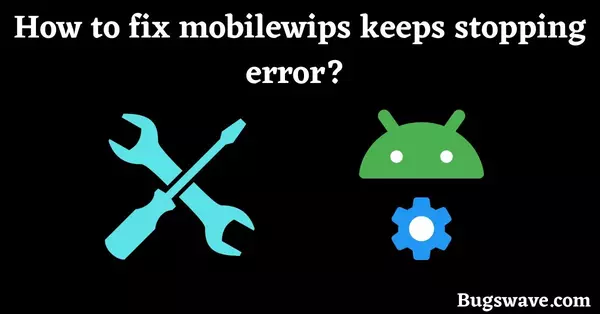 Despite not doing anything with smartphones, people are getting this error message that says "mobilewips keeps stopping." We just want to say that there is nothing serious about it. Just follow our guided steps, and you'll be able to solve this issue immediately after the completion of the steps.
Turn on and then off airplane mode
Doing this would be helpful for those who have connectivity issues with their mobile phones. This simply refreshes your smartphone's connectivity and provides you with a fresh connection.
Turning on and then turning off airplane mode is a smart trick for avoiding any kind of connectivity error within a second. If you notice any problems with your mobile's network connection, simply repeat this procedure.
Check for the latest updates
Keeping your smartphone up-to-date is a must for every user. By doing this, your smartphone remains threat-free and free from almost every software-related issue.
Updating your smartphone keeps your smartphone up to date with the latest version of the software. This simply solves any kind of bug in the smartphone.
So go to the settings of your smartphone and check for the latest system update; if it is there, install it immediately.
Restart your smartphone.
After following all the steps, simply restart your smartphone. Restarting your smartphone will give a short break to all the running apps in the background and to the software as well.
This will result in the smooth running of your device and can also resolve your issue.
Video Guide-
Conclusion
We hope you liked our efforts in making this article for you and that it helped you a lot in gaining valuable knowledge.
MobileWIPS is a useful tool developed by Samsung to protect users from wireless intrusion by cyber criminals. Despite the fact that some users are experiencing app-related error messages, there are simple steps that can be taken to resolve these issues.
That was all about this article, and don't forget to drop a beautiful comment in the comment section.
Related FAQs
Is the MobileWIPS app compatible with all Samsung devices?
This app is compatible with most Samsung devices running Android 4.4 or later. However, some older or lower-end devices may not be compatible with the app.
How can users protect their smartphones from cyberattacks?
Smartphone users can protect themselves from cyber attacks by using strong passwords or PINs, keeping their devices up to date with the latest software updates, andavoiding clicking on suspicious links.

Hello, Myself Rana, the founder of Bugswave.com, where I assist others with their technological problems and guide them through the process of resolving them.
Share with others