This blog will look at different ways to check iPhone temperatures in different conditions or how to check the battery temperature of any iPhone.
iPhones are the main benchmarks for all mobile companies in the world, but there are so many reasons for the success of the Apple iPhones.
They are great in all departments, whether it's performance, optimization, or camera. People buy iPhones only for their camera and brand value.
Keeping track of your iPhone's temperature is super important. iPhones are programmed to shut themselves down at very high temperatures, to prevent them from burning out.
Table of Contents
3 Methods Check iPhone temperature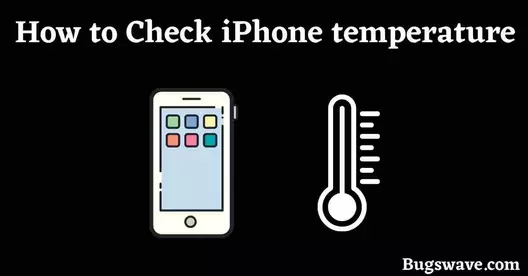 We know that some previous models like iPhone 11 and iPhone 12 have not had that much efficient battery life.
Still, iPhone 13 is the game changer in the battery department there is no such major heating issue in these devices but there are some reasons for the overheating of the iPhone. 
So if we talk about the reason for the overheating of the iPhone then it could be only one reason for most of the cases, and that is "climate". If the area where you are using this device is hot and have around 35-40 degree Celsius temperature then it is obvious for any device to overheat. 
The processor itself is producing heat and to overcome this heat surroundings must be cool enough to take that heat.
But in hot weather conditions, this exchange of heat between the processor and the surroundings doesn't take place efficiently and becomes the reason for overheating in mobiles.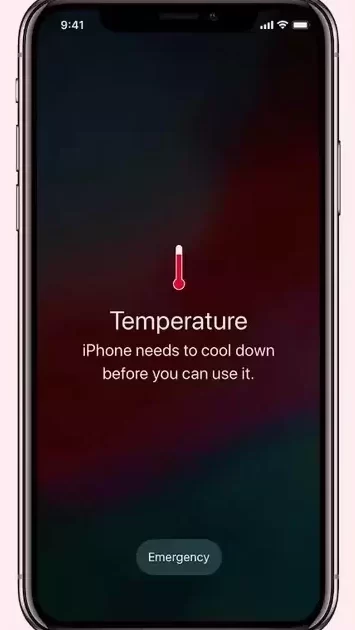 To overcome this heating issue, you should follow some steps. This will help you in solving your problem.
1. Avoid using your phone in direct sunlight.
2. Do not overuse it when it starts getting warmer.
3. Avoid doing heavy tasks like gaming in hot weather conditions.
4. Don't leave your phone in your car which is parked in direct sunlight. Because there will be a heat trap in the car and that is not safe for your iPhone.
Now here are some of the steps that you should know to check your iPhone's temperature.
1. Through iPhone warning
Whenever the iPhone started getting overheated, it displays a message which says that your iPhone's temperature is rising and needs to cool down. iPhone stops working when this message shows up and you can only restart or power off your iPhone. 
From this, you can be informed about the level of overheating that is harmful to your iPhone and you can take action after this. But this does not inform about the level of temperature increase on the phone.
So this is the only way that Apple provides us to check the temperature.
2. Using third-party Apps
You can use third-party apps to know the exact temperature of your iPhone, but we don't recommend this. But if you know a genuine app that gives accurate temperature readings, then you can go with that app. 
Avoid using lesser-rated apps and use only highly downloaded apps from Appstore. This would be good for you and your iPhone.
3. Infrared Thermometer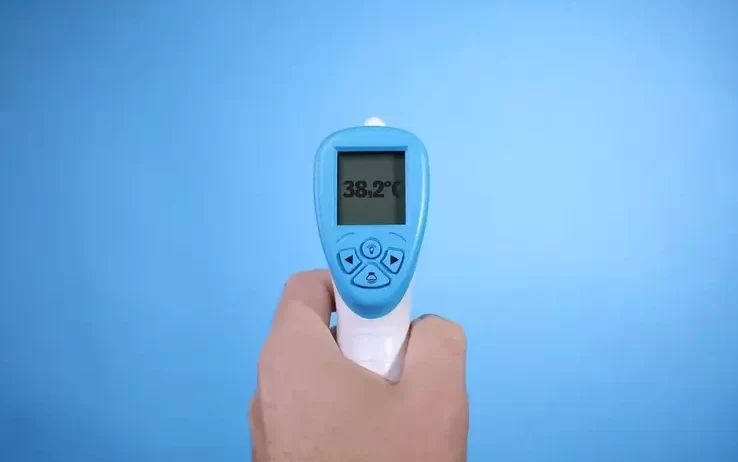 We think this could be the best method you can apply to check your phone's temperature. This is the most practical and instant way and it can be used by anyone anytime.
As you already know from the name you have to check the temperature by just putting the infrared thermometer on the back side of your iPhone and you can easily find out the exact temperature and control it instantly.
Just you have to know is the temperature range of the iPhone or the safe temperatures of the iPhones to avoid the risk of internal damage.
Safe Temperature for iPhone is 20°C – 45 °C or -4°F – 113°F
Relate Video: How to Check iPhone Temperature to Avoid Overheating Alert
Conclusion
We hope you enjoyed our blog about how to check iPhone temperature.
We've provided various methods for various iPhone models. You can check the temperature of your iPhone using any of the methods listed above.
We know that there are many reasons why you would want to check the temperature of your iPhone, which is why we wanted to share this useful information with you.
We hope you found this article useful, and we invite you to return for more great content on a variety of topics like this.
Frequently Asked Questions
How to check the temperature in iOS 15?
You can utilize third-party applications to determine your iPhone's actual temperature, but we do not recommend it. However, if you know of a real app that provides reliable temperature data, you can use that app.
How to check iPhone battery temperature?
The "Battery and Charger test" app is advised by experts. Before your iPhone overheats, it will monitor the battery temperature and keep you aware.
How to check the temperature of iPhone 12, 13, and 14.
You can use many ways to check the temperature of any iPhone model, but the best way is using third-party apps from AppStore or an infrared thermometer.

Hello, Myself Rana, the founder of Bugswave.com, where I assist others with their technological problems and guide them through the process of resolving them.
Share with others