The Summit IMS service is pre-installed on smartphones, indicating that it was not installed by chance.
By not going too deep into this topic, we will tell you about it in understandable language so that a non-technical guy can also understand the whole concept behind it.
People have been searching for the Summit IMS service on Android for months but have found nothing useful on the internet.
IMS services stopped working on some people's smartphones, and they are having issues with the most basic uses of their smartphones.
So is it a virus, and how do your mobile's basic functions get disturbed by this small application?
We will discuss all these theories in this article. So without any further delay, let's start our article and grab some technical knowledge.
Table of Contents
What is the summit IMS service on my Android phone?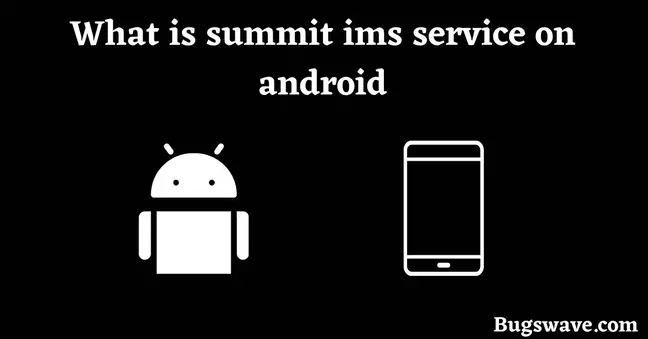 IMS stands for IP multimedia subsystem. IMS is a new technology standard that enables you to build convergent voice-over-IP and multimedia communication services more quickly than ever before, with end-to-end service control across a variety of access modalities.

Typically, Samsung uses IMS services for their smartphones to provide the best and fastest communication services to their users. The IMS service helps us send messages and make calls via an IP network. Whenever there is an issue with IMS, messages, and communication services are also affected. At that time, users receive a message saying "IMS services have stopped."

It is a core network technology that supports technologies such as voice over IP, PTT (Push-to-Talk), VoIP, Push-to-View, video calling, video sharing, and so on. IMS has a massive role in providing you with the LTE network.

In simple terms, consider it an intermediary between the user and the service provider. We hope this helps you better understand the whole scenario.
Now let's take a look at the permissions it requires to successfully run on our smartphone.

PERMISSIONS

When you go to the settings, you can see the permissions it has taken to run on your smartphone. It is clear from the foregoing that it will have required some permissions, which you may question.
Because all of these are serious permissions, people often get scared that it might be a virus or spyware. So following are the permissions taken by IMS services:
Call logs
Contacts
Location (only when the app is in use)
Camera
Phone
Storage
SMS
Knowing these permissions could shock everyone, but there is no need to worry. System apps always require these sensitive permissions so that they can provide you with the best service. IMS is also a kind of system software.

Is the Summit IMS Service spyware?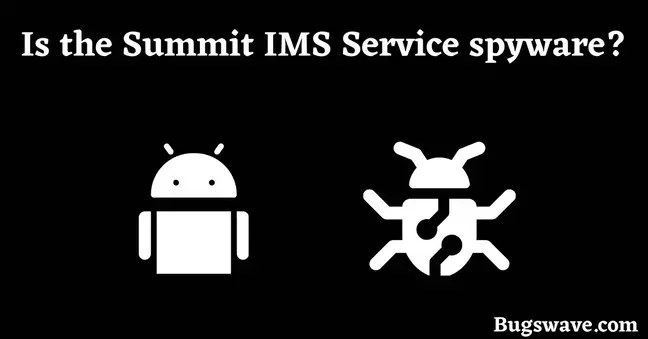 Absolutely not; as we mentioned above, it is a system app that usually comes with Samsung mobiles. There is no need to doubt it. By the way, it is a system app that performs the basic functions of your smartphone. Your text messages cannot work without this application. If this application appeared to you recently, you must have it.

It always stays hidden in the system, but when there is any problem in the system, it gets popped up. The error message "Your IMS has stopped working" is a common issue with Samsung phones.

There is also no reason for that, but we can look at our recent activity because it could be the reason behind this issue. So you must check the application or file that you recently downloaded, after which this message started appearing to you.

Do I need summit IMS service?

If you are a Samsung user, you do not need to delete this application. The reason is that it is a system app and is essential for your communication and text messages.
So in simple words Yes, you definitely need this application for the proper communication services on your smartphones. Just hide this application if you don't want it on your home screen.
This application cannot be deleted from the system because it's a system app, and system apps usually have so many basic features that they shouldn't be deleted. This simply means that if you don't have this app, your smartphone's basic functions may suffer.

How do I fix summit IMS Service stopped working?
If you read the preceding statements, it is clear that the following steps may be the only way to resolve this issue. Except for these, there is no such solution for this.
Clear your mobile's cache for better results.
Now clear your message cache as well.
Delete the unnecessary messages (This is a must step).
Now restart your device.
This would be enough, and after following all of these steps, there will be no such problem.

Conclusion
So it is concluded that summit ims services is basically a core network service that allows speech, video, and other multimedia content to be delivered across IP networks. IMS provides services such as Voice over IP (VoIP), video conferencing, and instant messaging by utilizing IP protocols.

Thanks for staying with us till the end; we hope you liked this article. I hope this will help you resolve your issue. Don't forget to leave your thoughts in the comment section.
Related Post- What is com.samsung.vvm on android phones?
FAQs
Do all mobile networks support IMS?
Not all mobile networks are compatible with IMS. While some mobile networks have chosen to use various technologies to deliver multimedia services, others have not yet made the switch to an all-IP network.
What is exactly IMS service?
A framework for providing IP multimedia services across mobile networks is known as the IMS, or IP Multimedia Subsystem. 

Hello, Myself Rana, the founder of Bugswave.com, where I assist others with their technological problems and guide them through the process of resolving them.
Share with others