Today, we'll go over some of the best Snapchat friend emoji ideas as well as some of the best friend emoji themes you can use.
Snapchat is one of the fastest-growing social media platforms. People are more likely to take snaps than upload them on other social media platforms like Instagram. They use Snapchat as part of their lifestyle.
When Snapchat first started, there were only the default emojis, which were the style of their ghost logo.
Nowadays, a much wider range of emojis is available. Emojis are incredibly important for creating a better connection with your followers
Table of Contents
10 best Snapchat friend Emojis Ideas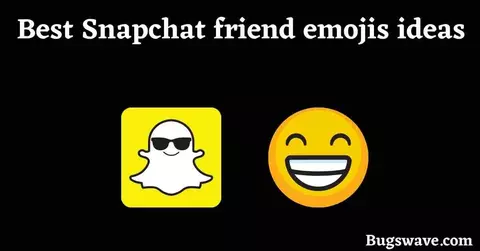 There are mainly 10 types of friend emojis:
Halloween emojis🎃
pink emojis🎀
Hourglass emoji⏳
100 emoji💯
Sparkle emoji✨
Birthday Cake emoji🎂
baby face emoji👶
sunglasses emoji😎
Grimace emoji😬
Aesthetic emoji🌅
Now, those who use it regularly know very well about the interface of this app and how its features work.
There is a feature of emojis that we can use for different people depending upon their relations with you.
Now here the relationship status is based on Snapchat, not the real-life relationship. which means the activity of you and that person on Snapchat is defined by that Emoji.
So there is a list of these emojis that appears on your friend's profile.
These all have different meanings, so let's take a look at these emojis and what they mean.
1. Halloween Emojis
So Halloween emojis are limited-time emojis that we can use only on the day of Halloween. These are all Halloween-related Emojis and can be used only once a year.
Because of the limited use of these emojis, people are often excited about Halloween to use these emojis.
2. pink Emojis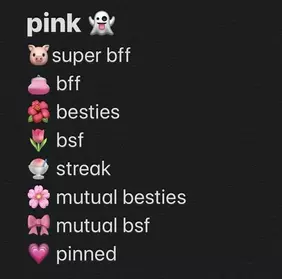 This double pink hearts emoji appears next to your best friend or we can say #1 best friend when you are best friends for about 2 months in a row.
But there is a condition to this, you should also be his #1 best friend for about the same period of time. Then this emoji appears on your friend list and represents your bond with your friend.
This also means that this is your best friend on Snapchat, and your Snap sharing frequency is also great with this user. You also share some exclusive snaps with this user that you haven't shared with anyone else.
3. Hourglass Emoji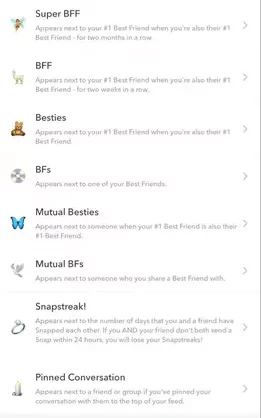 The hourglass emoji is a kind of timer emoji that represents that your snap streak with your friend is about to end and reminds you to send an urgent snap to your friend for the continuity of the snap streak.
This will appear when there is less time remaining in the 24 hours of the last snap sent and it represents the 'Wait' for the next snap from you.
4. 100 Emoji
This 100 emoji represents that you and your friend have completed the 100 successful days of snap streaks. This shows as an achievement with your friend like a century celebration.
So whenever you see this emoji then this could be a positive sign for your snap score and your interactions with your friends.
5. Sparkle Emoji
Don't confuse when this appears in front of you, even after the weak snap streak score with that friend because this emoji shows that you and the other friend belong to a common group.
This reminds you of people that are indirectly in contact with you and you don't know about him/her. This informs you about that person and gives you a chance to interact with them.
6. Birthday Cake Emoji
As we already guess from this emoji today is the user's birthday and reminds you to wish that user.
This emoji will only appear on the user's profile only if the user has mentioned their birth date on the Snapchat profile. otherwise, no one will see this emoji on the profile.
7. Baby Face Emoji
This baby face emoji appears next to the user who you recently added to your friend list. From this, we can see that Snapchat has a beautiful way to enhance the user experience.
This represents a fresh user for you in your friend list and reminds you to develop a friendship with this user for better interaction.
8. Sunglasses Emoji
This will appear on the user who has a good snap streak with you and with whom you both regularly share snaps. This user could be a close friend who shares pictures regularly with you.
This doesn't mean that this user is your best friend but he has a healthy and good snap frequency with you.
9. Grimace Emoji 
If one of your friends is in touch with the user and that user is also a friend of yours on Snapchat then this emoji will appear on that user.
This means that this user is a common friend of yours and your BFF. And your best friend or BFF has a quite good frequency of snaps with this user.
10. Aesthetic Snapchat friend emojis ideas
Aesthetics is a new trend nowadays, people are now using these themes and quotes. This is an excellent step toward innovation. people started feeling the pure things in this universe.
The aesthetic is a great choice as well if you are planning to change the theme of your Snapchat. There are so many emojis that are related to aesthetics and also look good when applied.
3 Best friend Emoji Theme Ideas –
Top 3 friend emoji theme ideas are:
Pink and White Emoji Theme
Purple Emoji Theme
Cat Face Emoji Theme
These theme ideas are the best to make your Snapchat interesting and attractive. You can use emojis for this and make multiple combinations that you find attractive.
Making these theme ideas are the smartest thing to do because this defines the overall look of your Snapchat.
This also enhances your creativity in color selections, you can also make a customized theme of different emojis apart from the color themes there are animals, vehicles, and many more that want to set up according to your choice.
Pink and White Emoji Theme
Pink and white is also a great way to set up your theme, this theme is more popular with girls
than men but men can also customize it according to men's attitude emojis. There are so many emojis in white and pink colors.
White is not that popular in themes but according to us there is a lot more potential in it and can be an attractive one for your Snapchat profile.
Purple Emoji Theme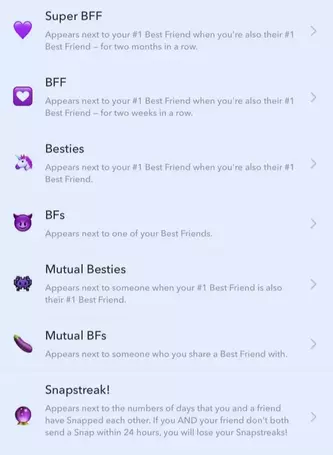 As white is not popular enough, here is purple which is the most popular theme according to the reports. There are so many users that use a purple theme when it comes to upgradation of the theme.
Purple is the first color that comes to almost everyone's mind when they plan to choose a theme color.
Purple has a lot more combinations with so many colors that can be a pleasure for the eyes to see. For example, we can use it with white, Black, and grey.

Cat Face Emoji Theme
The cat face is the cutest theme that can be used by users. It is already used by so many users like the purple color theme but if it is used correctly it could become a great theme.
Cat faces emojis can also be used with different colors for more enhancement. For example,
Purple, Red, white, and many more light colors
Last words
We hope you enjoyed this blog post about the best Snapchat friend emojis.
In this post, we'll go over some of the best emojis for calling out your friends and family on Snapchat.
Snapchat friend emojis are a great way to communicate with your friends on Snapchat. You can also add these emojis to your snaps, and your friends will see them when they open your snaps.
If you have any other suggestions, please share them in the comments section! We'd be delighted to hear from you!
Frequently Asked Questions
What are some Best Snapchat friend emoji Combinations?
There is an emoji function that we may employ for various persons based on their relationship with you.
You can choose many Best Snapchat friend emojis Combinations. Check our post for the Best Emoji ideas.
What are Snapchat friend emojis?
On Snapchat, friend emojis make it easier to keep track of your buddies!
Friend Emojis might vary often and depend on how you and your friends use Snapchat.

Hello, Myself Rana, the founder of Bugswave.com, where I assist others with their technological problems and guide them through the process of resolving them.
Share with others