Many users are getting discord sticker invalid asset error. If you are also one of them read this article to fix it.
Discord is giving this error to so many users who are just trying to upload their sticker files to Discord. By the way, this error is not like all other errors because so many people tried a lot of things but nothing helped them.
And Don't take it lightly, as attempting to upload frequently with errors could result in a ban from the platform. because bots are watching your activities and may be triggered by your consistently wrong actions.
Despite these occasional errors, Discord continues to be one of the most popular communication platforms, with millions of users worldwide.
We wrote this article to resolve your problem, so stay tuned with us, and we will give you the best suggestions to resolve this issue. And you may also like how to fix the Playing tone pop-up on Android phones.
Table of Contents
What does invalid asset mean on discord?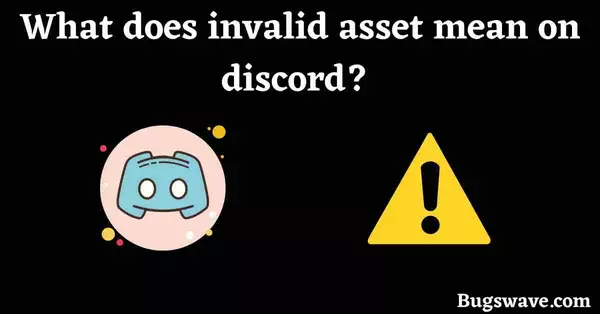 "Invalid asset" means that you have uploaded something that is prohibited or incompatible with the platform. Now some people will ask what could be in a sticker file that is prohibited.
Of course, there is nothing to be prohibited in stickers, but there are some formatting rules for this platform that every user must follow.
Firstly, there is a size limit of 523 KB on Discord. If someone uploads a file that exceeds the size limit, an error will appear. So make sure that your file size is under the limit.
Secondly, the sticker file that you are trying to upload should be in the format of PNG (Portable Network Graphics) or APNG (Animated PNG). If there is anything other than this, it will be rejected.
Thirdly, and most importantly, Discord doesn't accept GIFs for stickers.
Another key thing to remember is to check your internet connection and stabilize it if it's not stable.
3 ways to fix discord sticker invalid asset issue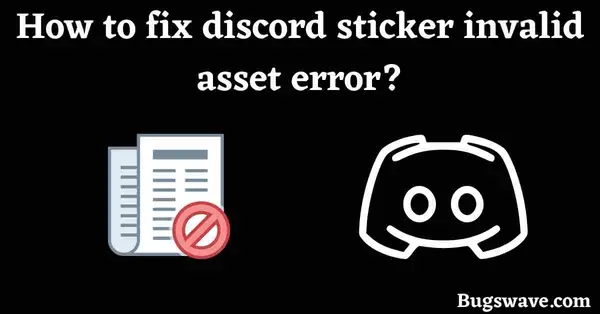 All things considered, there seem to be three main steps to fixing this issue. All these are proven ways to solve this problem. Let's take a look at those ways.
1. Check your internet connection:
Before proceeding with any other steps, you must first check your internet connection. This is the most basic of all the steps—not only the most basic but also the most important one.
A stable and decent internet speed is a must while uploading any file to Discord. Otherwise, there could be an error. Also, check if your mobile data is exhausted. So those were the major internet-related points that needed to be highlighted.
2. Converting and compressing the sticker file:
The second key thing to remember is to check the file compatibility in Discord. The format rules of the platform have to be followed for smooth uploading. As a result, ensure that your file is in PNG or APNG format and that it ends with.png or.apng.
However, if you have a jpeg file, don't worry; there are so many online converter tools that can convert your image into the desired format.
➢ Search on Google for "jpeg to png converter".
➢ Select any of the converters from the top.
➢ Upload your image on one side and download its converted version on the other.
Your file is still not compatible enough if its size exceeds 523 KB. To make this compatible, follow these steps and your file will be fully compatible with the platform.
➢ Google "File compressor".
➢ Now select any link from the top.
➢ upload an image from one side and get it from another side (There will be a download button on another side) same as the previous step.
3. Contact Discord support:
If the problem is still not resolved even after attempting both steps from the above, then there is only one option left, which is to contact Discord support. This is the final solution for the fix, and if they also fail to resolve it, then there is only one thing that you can try.
You can delete your Discord app and try to open it from your browser. If it doesn't work on your phone, you can try it on your computer.
Verdict
When you try to upload a sticker file that isn't allowed or isn't compatible with the platform, Discord tells you that the file is "invalid." Check your internet connection before uploading any file to Discord.
Make sure that your file is in PNG or APNG format and that it ends with ".png" or ".apng." If you've tried both of the above steps and the problem is still not fixed, contact Discord support.
We hope this article helps you solve the discord sticker invalid asset error. And if you have any other queries related to discord errors, you can comment on this post and we will answer you.
Related FAQs
What should I do if my internet connection is not stable?
If your internet connection is unstable, restart your router or use a wired connection such as an ethernet cable.
Can I use GIFs as Discord stickers on discord?
No, GIFs are not accepted as stickers on Discord.

Hello, Myself Rana, the founder of Bugswave.com, where I assist others with their technological problems and guide them through the process of resolving them.
Share with others