In this post, we will discuss what is call forwarding unconditional and how it differs from conditional call forwarding.
Well, call forwarding is an amazing feature that telecom companies have provided us, but unfortunately, most people don't use it. At the same time, most of them don't even know how it works. 
As a tech enthusiast, this is somewhat disappointing, but seeing that people are looking for and curious about this feature is encouraging.
Call forwarding is of two types: one is conditional, and the other is unconditional. They totally justify their names, conditional and unconditional, and work accordingly.
We use call forwarding when the phone can't be reached, is busy, or is broken and can't receive calls. so that the calls won't be missed and get received at another number without being dropped.
When phones break and are unable to accept calls, call forwarding is the most practical way to receive calls in this situation.
In this article, we will discuss this amazing feature and point you in the right direction.
Table of Contents
Call forwarding unconditional meaning on android and iPhone–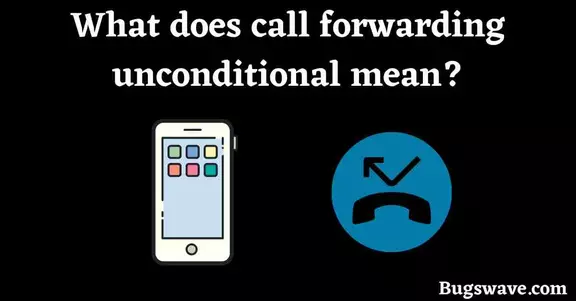 Unconditional call forwarding means that all incoming calls are forwarded without any conditions. This makes this feature so handy when you have to receive some important work-related phone calls and your mobile phone is unable to receive the call.
Also, if you are in another country and have not informed anyone. Here, unconditional call forwarding plays its role and helps you receive all those calls from your old mobile number.
Forwarding calls from one number to another without the call being dropped is its key feature. In unconditional call forwarding, the user makes a permanent solution for all incoming calls and sends them to another number so that he or she can easily answer those calls.
So what is different about conditional call forwarding? Let's see it in detail.
Conditional call forwarding –
In conditional call forwarding, we can choose when and where the call should be diverted. We can choose the time, date, and circumstances, like when the phone is busy when there is no network on the primary device, etc.
This makes conditional call forwarding so special whenever someone plans to go on a trip for a few days. He or she can forward all the calls if there is no network on their primary phone and whenever they have a secondary phone with an excellent network.
It is so safe that even when you receive a forwarded call, you can see that this call is forwarded as there will be a condition applied on the screen.
On the other hand, if the caller is somehow trying to forward your call, then it'll also notify you about it. You can hear the sound of changing the condition as they do it. by
This is the backbone of all the call centers in the world, because they have to receive so many calls at the same time, and every call is equally important to them. If there are so many calls coming in on a particular number, then they forward those calls to other employees so that no call will be dropped.
This multitasking is only possible because of the call forwarding feature; otherwise, we couldn't get that level of service from customer support. It makes the mobility of the calls so smooth that everyone gets the best service all the time.
Call forwarding in iPhone-
Call forwarding on the iPhone is very simple, but for various reasons, the settings are a little more complicated.
This may discourage a user from setting up call forwarding on their iPhone, but we are here to provide you with the best steps to take to enable call forwarding on your iOS device.
Follow this step-by-step guide:
Navigate to the settings.
Then head toward the "phone."
Select the call forwarding option.
Switch on the call forwarding option and proceed.
Now type the number to which you want to forward your calls.
Press the call forwarding button at the top left corner.
What does call forwarding unconditional voice not forwarded mean?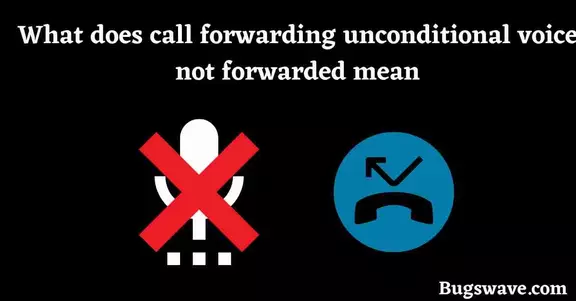 This error message simply indicates that the number has unconditional call forwarding set up but due to some reasons it couldn't make it possible. There can be so many reasons for this, one of the major reasons is that the number has blocked all the calls or someone reported the number as spam.
You can examine four major factors that may contribute to this message appearing to you:
Check whether the number is active or not.
Check whether the call forwarding settings are right.
Check if the number is correct.
Contact the customer service support of your telecom operator to see if they help you to resolve it.
There are so many chances that your problem will get resolved by only following these steps.
Does call forwarding unconditional mean my phone is tapped? 
Well, it's not completely true. Unconditional forwarding can also be done by the receiver for obvious reasons. So there is no need to worry about tapping and all that. But if it's showing up every single time you call, then it is a matter of concern.
Then there are some codes that you can try if there is any doubt about being tapped.
● To check if your phone is tapped: *#21#.
● To check all the call forwarding information: *#004#.
● if anyone catches my unanswered calls: *#61#.
● To check call forwarding status: *#62#.
● To check for a call forwarding number, dial *#67#.
● To show your IMEI: *#06#.
How to deactivate call forwarding unconditional?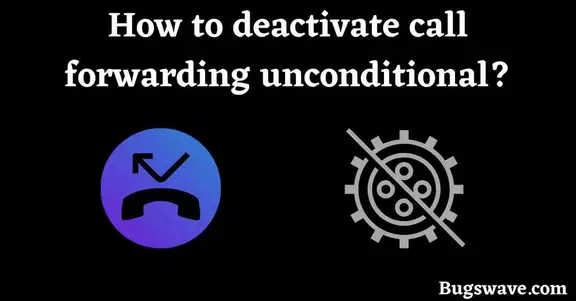 Hence, everyone knows to enable call forwarding by dialing *72. But there are few people who know how to stop call forwarding. Let's see how we can disable it on our mobile phones.
Just follow these simple steps to turn off call forwarding in Android:
Go to the settings.
Search "call forwarding" or "call-forwarding" and tap on it when found.
Now select the network of which you want to disable call forwarding.
Turning off that setting that is on, simply means all the settings should remain off to disable it.
It's all done, your call forwarding is now stopped.
You can simply enable call forwarding from here if *72 is not working in your area. Everything will be done by your service provider.
Video Guide:
Conclusion
So it's time to wrap up. Call forwarding is a very useful feature that allows users to forward incoming calls to another number without having the call dropped. Call forwarding is classified into two types: unconditional and conditional.
This feature is especially useful for people who travel frequently or who have a broken phone. Call forwarding on an iPhone is simple, but the settings can be confusing for some users.
So that was all about this article, and we hope you learned something new from it. Our primary goal is to provide you with accurate information about technology. Thanks for staying with this article till the end.
Don't forget to leave your thoughts about our effort in the comment section; if you have any advice, please write it down in the comment section.
Related FAQs
What is the difference between conditional and unconditional call forwarding?
Unconditional call forwarding automatically redirects all incoming calls to another number, whereas conditional call forwarding allows users to specify when and where the call should be diverted.
Can I use call forwarding for my business?
Call forwarding is commonly used in call centers to route incoming calls to other employees, ensuring that no calls are dropped.

Hello, Myself Rana, the founder of Bugswave.com, where I assist others with their technological problems and guide them through the process of resolving them.
Share with others