This post is about how to generate traffic from Snapchat. These are some of the best strategies to drive users from Snapchat to your website.
With over 150 million active daily users, Snapchat is one of the fastest-growing mobile apps in the world.
Although it has a large number of users, most of them still don't know how to generate traffic from it. If you are also facing an error during log in check out How to Fix Snapchat can't find matching credentials.
If you've been practicing Snapchat marketing all this while and yet, you are still unsuccessful, it might be time that you change your methods. This article will tell you how you can use Snapchat to drive traffic to your blog or website.
Table of Contents
Here are the best ways to generate traffic from Snapchat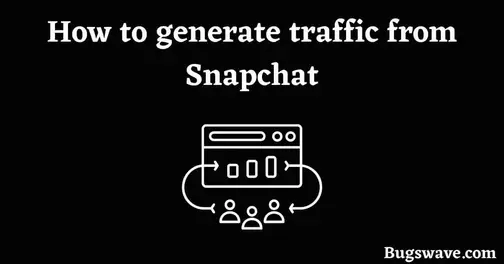 1. Influencers Marketing
The first step to generating traffic from Snapchat, as with any other social media site, is to build a strong following and engagement. There are numerous methods and tools for doing so.
The best method is to use Influencers to promote your account.
Influencers are a great way to promote any type of online account and website.
When you're looking to promote a brand, it might be a good idea to use influencers. This is a great way to get your brand in front of a lot of eyes, which is great for business.
What is an influencer?
An influencer is someone who has a large following and is able to use their social media presence to promote brands and products. For example, if an individual has a large following on Instagram, then that individual could be considered an influencer.
Follow these steps to make sure you're placing your account in the right hands.
Search for the right influencer.
Find the influencer on the platform which you like the most.
Create a catchy message to the influencer and ask them to promote your account.
Be patient and wait for the influencer to respond.
There is little chance that the influencer will agree to do this promotion for free. Because, in most cases, they charge you a fee to promote your brand on Snapchat.
So keep this in mind before approaching them about a promotion. Otherwise, you'll be surprised by the amount.
But stepping back by seeing the amount of fee would not be a great decision. Because the whole world is dependent on promotions so why can't you?
2. Driving Traffic Using Swiping Feature
You can effectively share your articles on Snapchat to drive traffic back to your blogs by using the swiping function, which allows you to add links to your story.
Snapchat users can access the link by "swiping up" the connection from the bottom of their accounts. By including links to full articles on each slide, you can direct visitors to your website to read more.
You can also use a screen recorder to capture short videos as you scroll down your computer's screen to show people the new article you just published.
We believe it is an amazing idea for promoting your website and directing some users to it. This increases the productivity of your profile while also increasing engagement.
If you know how to advertise your business on Snapchat, you can drive tons of traffic to your website.
Before you begin advertising on Snapchat, you'll need to set up a few things, such as a Snapchat account for your company. You'll also need to determine your Snapchat ad budget and how to calculate ROI from Snapchat ads.
If you don't use Snapchat ads correctly, they can be very expensive. However, when done correctly, Snapchat ads can be a very effective tool for driving traffic to your website.
Types of Snapchat ads, that we can use to drive Traffic
Single Image and Video Ads
Single image or video ads work best for capturing users' attention while they check in on friends on Snapchat. Snapchatters swipe up on these to convert to the call to action (CTA).
Snapchat filters and AR Lenses are excellent ways to engage users with your brand.
Story ads are the most effective at attracting buyers with high intent.
Story ads allow your brand to blend in with the surrounding content visually and like organic content, they appear in the Discover feed as tiles.
Commercials are non-skippable for six seconds but can last up to three minutes. These advertisements run with Snap's selected content.
How to get more followers on Snapchat
Snapchat is the fastest-growing social media, and it is also the most engaging. It is a great marketing tool for reaching out to a younger audience. If you want more Snapchat followers, you should first focus on creating unique content.
There are some other methods that will help you grow your audience and generate more traffic from Snapchat.
– By Sharing your snap code on other social media platforms
Sharing your Snap code on other social media platforms is an excellent way to increase the number of followers on your Snapchat account. Now, a snap code is a code that contains your Snapchat ID and allows others to scan it and add you to Snapchat. For this, you must first learn how to obtain your snap code.
For this first, open your Snapchat mobile application.
Now go to your Snapchat Profile.
Now click on the large yellow square at the top of the screen with a Snapchat icon on it.
here is your snap code, now click on the 'save snap code.
Then the snapcode will be automatically saved to your gallery.
Now you can share this snap code with your friends on different social media platforms. This will definitely help you to gain followers. You can also ask your friends to share this snap code in their social media story section and recommend others to follow you.
(If have a business or a business profile on freelancing websites then, You can also share this Snapcode on your LinkedIn or any other business profile and ask your clients to follow you on Snapchat)
– Run Giveaways
Contests and giveaways are an excellent way to increase your following. Follow-to-enter events, when combined with the right incentive, can have a leapfrog effect. Follow-up with high-quality content that will keep new followers interested.
Don't be discouraged if your budget is limited. A free product or a small monetary reward is sometimes appropriate, or see if your partner company can provide a prize.
– By using E-mails
Email marketing is still an important medium to promote your business or yourself. If you know that person's information, such as age, location, and so on, send an automated e-mail to your client, knowing their appropriate age, inviting them to follow you on Snapchat. If you own a business, this is an excellent way to increase your Snapchat followers.
-By Buying real Snapchat followers from a Reputed Social Media Agency
The fastest way to increase social media followers is to buy followers from a Social Media agency. They will provide you with packages for different social media platforms.
The main advantage of this is that all the followers you gain are real, not bots. As a result, you are somewhat protected from being banned or deleted.
Having thousands of followers on social media instills trust in customers, and they will be interested in your stories and services if they see your profile has thousands of followers.
It can be a great push for your business. Because in this modern era, people only see the numbers and take decisions according to that numbers.
If you have great numbers then they'll value you and your service otherwise it's very difficult to even get an organic customer from social media without followers.
Last Words
If you're looking to learn how to generate traffic from Snapchat, we hope that you were able to find some useful strategies for growing your account and reaching new people
With the right strategy and a little bit of patience, you can get more followers and reach more people on Snapchat.
The best way to grow your Snapchat account is to add value to your community.
If you have any questions about Snapchat or social media in general, Comment anytime.
FAQs
How to generate traffic from Snapchat?
The best ways are –
– Building a strong audience
– Collaborating with other creators
– Using paid ads
How to use Snapchat for business marketing?
Snapchat is a social media platform that enables quick, temporary photo and video sharing. But You can also use Snapchat for business marketing by using ads, branded filters and lenses, and geotags.

Hello, Myself Rana, the founder of Bugswave.com, where I assist others with their technological problems and guide them through the process of resolving them.
Share with others