In this post, we will demonstrate how to cast to Firestick from Android phones, PCs or laptops, and iPhones.
I'm sure you've heard of the Amazon Firestick if you're already familiar with the latest gadgets on the market. If you are unfamiliar with this product, let me explain in brief that it is an Amazon product with a unique feature that can convert your regular TV into a smart TV.
You can watch all multimedia stuff like youtube, Prime videos, Netflix, and many more on your TV with this firestick. And as a bonus feature, you can use it with voice search which makes it a value-for-money product.
So, if you don't want to spend money on a smart TV, you can go with this and enjoy all of its features. However, there is a condition attached to using this firestick: you must connect it to a Wi-Fi internet connection while using it.
Now in today's blog, we will discuss the best ways to cast a Fire TV stick from any device.
Related post How to Cast to Samsung TV from Android and iPhone
Table of Contents
How to Cast to firestick to an Android phone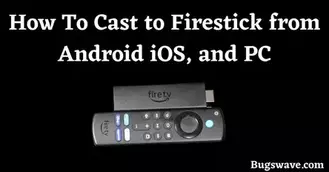 We have two methods for casting the Android phone to the Amazon Firestick in this article. If the first method does not work, try the second.
Method 1: Using Casting Feature
So in the first step, you just need to put your Amazon firestick to mirroring mode by just holding the home button and selecting 'mirroring'.
Then go to your Android Mobile screen and go to the setting where you need to search the "cast" on the search bar.
After this, you should see your Amazon fire TV there (If it is not there, then jump into method 2).
Now you click on the option that appears on your phone and you are done with this method.
Now you are able to see all the stuff on your phone on the TV but it should be noted that if you play in the landscape, then it will fill the screen.
Method 2: Third-Party applications
As mentioned earlier, if your Amazon Fire TV does not appear on your phone, you must install a third-party casting application. It could be any casting application, but it must function properly and without lag.
So there is nothing to do but only go to the play store and search cast to TV and install any reputed application.
You just have to ensure that your phone and TV should be connected to the same internet connection.
After installing the casting application from the play store all you need to do is open it up and find your Amazon TV, select it and you'll be connected to your phone.
You don't need to put your TV in mirroring mode you can also do this while your TV is on the home screen.
How to cast to Firestick from a PC or Laptop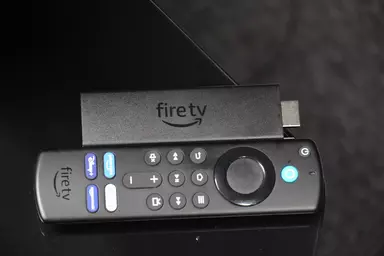 This is a simple step for you if you read the above paragraph. There is nothing much different in the PC or Laptops than the Mobile phone.
So in the first step, we go to the settings of our TV with which the Amazon firestick is connected, then we go to the network and see the internet connection you hooked up with.
After this come back to your home screen and simply hold your home button and go to the mirroring settings and leave it as it is.
Then turn on your PC or Laptop and check whether your Laptop is connected to the same internet connection if not then connect it with the same internet connection that your TV is connected to.
After this, all you have to do is just go to the notification icon displayed on the right corner of the taskbar and select the project option.
Now by selecting the Expand option click on "connect to a wireless display".
Then you will land in the area where you can find all the devices you can connect with but you will choose your Amazon TV and clicking on it will complete your process and it's all done.
How to cast to Firestick from ios Devices
Now we are going to learn how to cast Firestick from iOS devices, It doesn't look easy, but it's way more simple and easy than we think.
Because it is a common misconception that doing such things from an Apple device is a time-consuming and frustrating task, this is not the case. Doing things correctly and in the right direction can make this process go more smoothly.
First, click on the home button, go to the find option, and then click on the search option just under it.
And we have to find a free application called "Airscreen". So download and install it.
The next thing is to go and tap on the home button and then we want to find this app that we have just installed.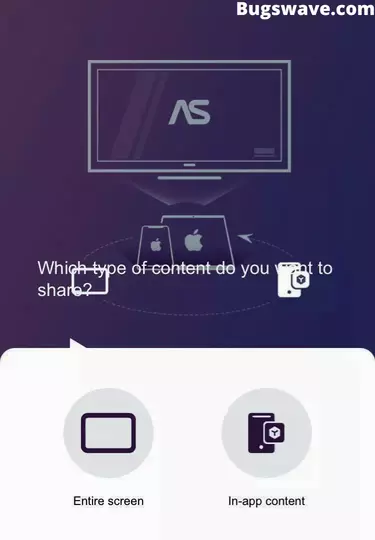 Now go all the way right to the row where we found the "find" option and click on the Application icon, what you have installed just shows up here.
Next click on the Airscreen icon, after opening it click on the confirm option and you will see a QR code displayed on the screen, and then leave it and go to your iOS device.
Make sure that your Amazon TV and your iOS device are connected to the same internet connection.
Now go ahead and get your iOS device and open up the camera and take a photo of the QR code after clicking the photo you will see a pop-up, just click on it and go back to the home screen of the iPhone or iPad.
Now you will see that the QR code disappeared from your TV screen and an alphabetical code is showing up.
Now slide down to your iOS device from the top and tap on the "screen mirroring" and search for the code that is being displayed on the TV screen, once you got that just tap on it and you will be connected to your iOS device. It's that simple.
Related Video: How To Mirror iPhone to Firestick
Last words
We hope you enjoyed today's article on how to cast a Firestick from an Android, iOS, or PC. Firestick is one of the world's best streaming media players.
It can play Amazon Prime Videos, Hulu, YouTube, Netflix, HBO, Spotify, Pandora, and much more.
If you are looking for a cost-effective means of entertainment, it is the perfect streaming gadget. You can even use it to play games. But many people face this error of casting firesticks, so we wrote this article. we hope it helped you in resolving your issue.
Finally, we'd like to point out that if you have any queries about this article, please leave them in the comments section.
Also, Check out the –
Frequently Asked Questions
How to cast to firestick without wifi?
Without a Wi-Fi network, an Amazon Fire TV Stick cannot be used. A Wifi network is necessary for a Fire TV Stick to stream content to your television.
How to cast YouTube TV to Fire Stick?
It is possible to cast YouTube to a Fire TV Stick. Open Youtube and click the mirror icon in the top right corner. From the list of devices, choose your Fire TV.
Is it possible to cast iOS devices to Fire TV Stick?
You can use AirScreen if you have an Apple device. It is iOS device software from a third party. It functions like a standard casting program and is entirely free.

Hello, Myself Rana, the founder of Bugswave.com, where I assist others with their technological problems and guide them through the process of resolving them.
Share with others